Coach Profile: Erin Knight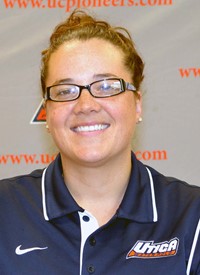 Zach Thomann, Assistant Sports Editor
In the left corner of the Utica Athletic Center, there is a dark hallway that progressively gets warmer each step closer to the door. Upon opening that door, a wave of chlorine engulfs your sense of smell and causes eyes to water.
This is where you can find Erin Knight, on a regular basis, for the past eight years. As the head coach of both the male and female swim and dive teams at Utica, Knight is responsible for day-to-day involvement with the pool.
Knight graduated from Hamilton College while also swimming for the Continentals for three seasons. After graduation, she moved back to her hometown of New Hartford. According to the Utica Pioneers website, Knight started her coaching career as an assistant swim coach at New Hartford before accepting the job at Utica.
"It is a great community for athletics and campus-wide," Knight said. "But what makes this job appealing is that I love this group of kids, and every year I get another great group."
Coach Knight's primary focus is to help her athletes reach their full potential and hopefully have success at their meets because of it.
"We lift an hour three times a week and swim two hours 5 days a week," Knight said.
This extensive training has proved to have an impact on this year's teams. Knight has led her teams to its best record since she became coach in 2008. The men's team currently holds a 7-5 record while the women's team has six wins this season.
Many coaches with a winning record might tell you that their efforts recruiting made the difference. Knight believes that Utica does the recruiting for her.
"The programs are fantastic and we have just about everything anyone could want here," Knight said. "When first speaking to a recruit I talk about the different opportunities both on and off campus.
Knight doesn't need to be different while recruiting. What makes her special from other coaches is that she is one of four females in the Empire 8 athletic conference coaching male athletes. This is an honor that Knight doesn't pay any attention to.
In her tenure as coach, Knight has never been distant from her male athletes. Coaching men is not only normal for Knight, but she doesn't understand why others see it as different. The feeling is the same for Senior swimmers Tommy Carlson and Chris Halsey.
"It doesn't matter if the coach is male or female," Carlson said. "As long as he or she makes me a better swimmer."
Halsey originally swam at SUNY Potsdam before transferring to Utica. A past male Olympic swimmer coached him, but after being coached by Knight, Halsey believes he has learned more from her than he could have at Potsdam.
Carlson and Halsey have one more meet Saturday against Clarkson University before competing in the UNYSCSA Championships in Ithaca, N.Y on the 14th.
Knight will continue coaching even after the swim and dive season is over. The members of the women's water polo team also addresses Knight as their head coach. The first game of their season starts March 11th against Connecticut College.