Faculty profile: John Peter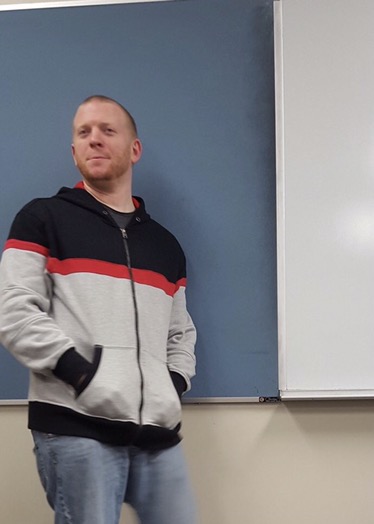 Olivia Osipovitch, Staff Writer
Growing up in Detroit, Associate Professor of Mathematics John Peter has always had a love for math.
Finishing his PhD in 2011 and applying to various schools to teach at, it was eventually narrowed down. With three schools remaining; Penn State, Adrian College and Utica College, he felt UC was the place for him.
"After I came out here at the beginning of 2012, interviewed and met everybody I just liked it, they offered me the job and I took it," said Peter.
What really sparked his love for math was his amazing math teacher from his junior and senior year of high school.
"My calculus class in high school was just such a fantastic experience," says Peter.
Before completely committing to math he considered the idea that he might want to do chemistry or physics. "I've always liked sciences and math oriented stuff," Peter explained.
Going to college at University of Michigan Dearborn, he decided to major in math, and then received his bachelor's degree. After attending Wayne State University, Peter then received his master's degree and Ph.D.
"This job is essentially just kind of a student forever," Peter states. "You start teaching but I still do math all the time."
Becoming a professor just naturally happened for Peter. In graduate school, they pay your tuition and a not so good salary to teach. He took the courses he was taking and on the side he taught one or two algebra classes as a graduate student. He didn't start with the mindset that he wanted to become a teacher, but after a couple of semesters, he began to feel comfortable teaching.
"This is a great profession," Peter expressed.
Not only is Peter a professor at UC, but he is also a part of a few service committees, some being the chair of academic standards committee for the last three years, and on a middle states committee.
"Everyone has known math to be boring or dry, or math is notoriously supposed to be hard," said Peter. "So I just try to have fun."
Peter is very considerate to not only math majors, but for students who just need math to fulfill a requirement. He knows what it's like to have to sit and listen to a teacher speak for an hour and fifteen minutes, so he tries to make it as enjoyable and painless as possible.
Peter explained that a lot of people that he has come across have always said things along the lines of "I'm bad at math" or "I hate math."
"I always just thought to myself, 'don't tell yourself you're bad at this, tell yourself you can do this'," says Peter. "My advice would be to just try and tell yourself 'no, I can do this.'
He believes it is a positive thinking method and that this could work for any subject, not just math. He expressed that since you know you have to take the subject try to find something interesting about it.
Being promoted from assistant to associate professor, things are going well for Peter during his time here at UC.
"I really like my colleagues," said Peter. "This has been a very unique experience for me to see what a smaller college is like."
He feels that with a smaller school he has the time for "one-on-one" time with students.
"I believe in a hard love policy," says Peter.
His door is always open for help, and is more than happy to help out a student at any time but, that is if you want the help. He doesn't see the need to chase a student down if they don't want to be in class or do well.
He cares for his students and wants them to do well, which is why he is active about coming to see him if they need the help.
"There's every opportunity for students to develop a relationship with me to get help," said Peter.