Player Profile: Morgan Reed
James McClendon
Staff Writer
Senior Morgan Reed has been red hot in the first nine games of the season, scoring a team-high 11 goals to go along with eight assists.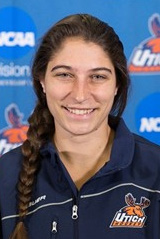 With the strong play of Reed, the Pioneers have started their season with a record of 6-2-1 and 3-2-1 in the ECAC West making them the fifth place team in a conference that includes nationally No. 1 ranked Plattsburgh State and No. 2 ranked Elmira.
Reed credited her hot start to the time, dedication and effort she put forth with her offseason workouts.
"I trained at least five days a week and was on the ice for at least two," Reed said. "I make sure I do as much as I can in the summer to make sure that I am in good shape to get started."
Head coach Dave Clausen has leaned on the experience, talent and work ethic of Reed to propel the team to such a strong start. Reed has become an important player for the Pioneers and has helped them with their hot start.
"We put her in spots where she has to produce for us to be successful, which is a lot of pressure," Clausen said. "But she has been a tremendous player for us her whole career."
Reed has stepped up as a leader for the Pioneers on and off the ice entering her senior year. As a leader for her team, Reed likes to think of herself as someone that leads by example.
"I work hard on the ice and try to be a good example for the incoming freshman," Reed said. "I want to make sure they understand that whether you're a senior or a freshman you have to work hard to play."
Reed has had an enormous amount of individual success already this season, but her personal accolades don't mean that much to her unless the team wins and has a successful season.
"I am very team-oriented and I want us to do well," Reed said. "I want to beat the top teams like Elmira and Plattsburgh."
Reed and the Pioneers have made the conference tournament in each of her three years at Utica, but have come up short each time.
Reed hopes to make it past the semi-finals this year and believes that the team will have to work together to reach that goal.
In the Pioneers' last game they were able to hand Morrisville State its first loss of the season. Reed scored the game's only goal as she redirected a shot in the first period.
The Pioneers get back to conference play on December 5 and 6 as they face SUNY Cortland. For the first matchup, the Pioneers will head to Cortland on Saturday with a 2 p.m. start time. The second will be back at the Utica Memorial Auditorium on Sunday with a 3 p.m. start time.