70 YEARS YOUNG: Trax the moose gets hyped about homecoming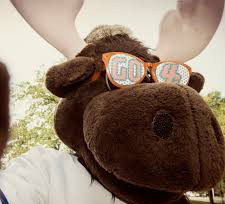 Miguel Reyes, Staff Writer
This fall, Utica College will be celebrating its 70th birthday during homecoming weekend, from Sept. 23 until Sept. 25. The weekend will be jam-packed with a full roster of live entertainment, special exhibits and activities, reunion-themed gatherings and sporting events.
Director of Student Activities Joe Gutowski explained how this weekend will determine the enthusiasm and energy that the school will keep throughout the semester.
"This is the weekend that everyone has been waiting for," Gutowski said. "We are expecting one of the largest crowds we have ever had."
It will be a historic weekend as UC opens its next chapter with the Inauguration of our ninth president, Laura Casamento, on Friday, Sept. 23 at 1 p.m. at Charles A. Gaetano Stadium. In case that there is any rain, the ceremony will move to Harold Thomas Clark Jr. Athletic Center.
The post-inauguration reception will take place in Clark Athletic Center immediately following the ceremony. If the inauguration rain location is utilized, the reception will move to Ellen Knower Clark Lounge in Ralph F. Strebel Student Center.
Family and friends can enjoy themselves at the carnival, which will take place in Clarke Lounge and back lawn, from 6:30 p.m. until 9 p.m. The event is for all ages and will feature rides, body painting and balloon artists.
To conclude the night, the Department of Student Activities will be hosting their student showcase from 9 p.m. to 12 a.m. at Strebel Lounge. Everyone is welcome to come enjoy watching and listening to a variety of students and organizations that will perform live dances, songs and spoken word.
Matthew Lominy, member of Lambda Sigma Upsilon Latino Fraternity Inc., will be performing at the student showcase.
"This showcase will be a great addition to this weekend of events," Lominy said. "It's exiting to know that so many alumni will be able to see how UC continues to breed talented students."
Erica Antoine, member of Hermandad de Sigma Iota Alpha Inc., will also be attending the student showcase.
"This will be my most memorable showcase yet," Antoine said. "There is an extensive list of alumni that will be joining my organization on stage as we showcase what we do best."
On Sept. 24, the weekend of events will continue with the Edith Langley Barrett Fine Art Gallery Exhibit, from 9:30 a.m. until 11 a.m. in the library concourse. The exhibit will include 19th and early 20th century Japanese raw silk trademark labels, accessible for free.
A walking campus tour will be led by a member of the admissions staff, giving participants a view of the most recent additions to campus. The tour will depart from Strebel Lounge.
The fun activities begin with the pre-game tailgate party from 11 a.m. until 1 p.m. There will be huge tents across from the Cynkus Family Welcome Center near the tailgating area serving all beef hotdogs, veggie burgers, sides and beverages, sponsored by The Matt Brewing Company.
Following the game will be the post-game happy hour festivities for all alumni, students, families and friends, also sponsored by The Matt Brewing Company. This event will include food and drinks, the Great Gatsby Casino, carnival rides and Showtime in the pub from 4 p.m. to 7 p.m.
Directly after, UCPB will be sponsoring "Price It Right" from 7 p.m. to 8:30 p.m. This will be an interactive game show including games such as real-size Plinko and Let 'Em Roll for a chance to spin the wheel and win the final showcase.
Once the game show is finished, UCPB will continue with a pub night, featuring Ryan Quinn, a four-octave vocalist and talented guitarist, in the Pioneer Pub from 8:30 p.m. until 10 p.m.
Commencing at 10 p.m. and ending at 1 a.m., there will be a dance party hosted by the 5th and 10th year reunion classes and current seniors. All alumni, students, and parents are invited as the Senior Class and Reunion Classes of 2006 and 2011 present an old school jam-style party featuring Tim Kirkland '06 and Addy De la Cruz on the turn tables.
To conclude this historic homecoming weekend, there will be an Alumni Awards Breakfast held on Sept. 25 at 9:30 a.m. in Clark Jr. Athletic center. All are welcome to join the UC alumni council in honoring the 2016 award recipients.
Students from all classes are preparing for this eventful weekend as they know it will be one filled with wonderful activities and bonding opportunities for all age groups.