Student Profile: Matt Milograno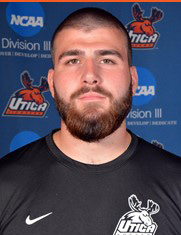 Olivia Osipovitch, Staff Writer
Breathing in that fresh air and lacing up those cleats are examples of what Utica College's Men's soccer goalie, Matt Milograno, looks forward to every year.
Being his third year playing for UC, Milograno, a junior, business economic major, has been in love with the game since he was seven years old. Whether you watch it or play it, this high paced sport has fans crazed.
Milograno explained, "Making big saves in front of the home crowd is one of my favorite things about soccer."
One word to describe Milograno would be passionate. The passion and enthusiasm that he has for the game of soccer really shows. Not only does he express it off the field, but he carries that passion with him every game day, especially when they bring home that win.
"I chose goalkeeper originally because I was slower than the other kids," Milograno said, "As I worked at it, I figured out that I wasn't too bad at it." The persuasion from friends is where he found the love for the game.
Sports are very popular on the Utica College campus. Taking the logo "Never Stand Still" to heart, sports players believe there are not enough hours in the day. Like many other students, Milograno has to balance school, sports, and a social life. Growing up with two older sisters, he was held to a very high standard, especially academically.
With the easy decision of picking UC as the perfect college for him, the decision of a major was a different story. "I chose UC because I liked the direction the school was going in, and my recruiting trip was very persuasive," said Milograno.
Starting off with geoscience, he quickly noticed this major was not one he can see himself doing. Within a good amount of time, he came to the conclusion that he wanted to pursue his interest in the stock market and money, so business economics was the way to go. Milograno stated that he has the ambition to use his degree one day to, "make it big on Wall Street."