Player Profile: Kyra Borsoi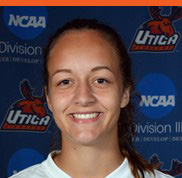 Jayson Bretton, Staff Writer
The transition from high school athletics to college may be a big step for some students to handle, but for Utica College Freshman Kyra Borsoi, it was a smooth transition.
Borsoi stands at a height of five feet nine inches, making her the tallest on the team, but that isn't the most interesting thing about her. She is the only girl on the team that is from a different country.
She is from Brossard, Quebec and she got recruited to play hockey for the pioneers, but decided to walk onto the women's soccer team after showing interest at one of their clinics. This is where Borsoi said she met most of the girls on the team.
Among those girls, junior Elanna Green says that Kyra is a big help on the field.
"She's a strong freshman coming in the back line, she's very tall so that's helpful and she's tactical," Green said.
Borsoi applied to other schools like Hobart, Elmeria and Norwich University, but she knew a lot about UC prior because her brother, Zach Borsoi, goes here as well. Just like his sister, Zach got recruited to play hockey as well.
So far, she says her experience at UC has been great. She really loves the campus and the people. She didn't have any plans on applying at a school in Canada. Borsoi only applied to make her parents happy, but she is glad she chose UC.
Most people might have a hard time with adjusting to going to a college in a different country, but Borsoi doesn't find it to be an issue. That is mostly because she went to a prep school in New Hampshire before she came here.
According to Borsoi, her first game was interesting, exciting and nerve racking mainly because it was the first time she would step out in a Pioneer jersey. She played around 30 minutes for the entire game, 10 in the first half and 20 in the second half.
When asked how big of an impact Kyra will be in the upcoming years, assistant coach Elena Dauphinais said it is hard to predict but she will definitely be provided with the tools to be successful in this sport.
"With all the players, we're just excited to see how they develop and mature. We help them get to where they need to be," Dauphinais said.
Although the women's team has had a few setbacks this season, the coaches feel like they're playing a lot better compared to last season.
When recruiting an athlete like Kyra, the coaches like to make sure they fit well into the program. Knowing that their athletes are good soccer players and good people in general is a major aspect of the decision.
According to senior forward Xiomara Rodriguez, having an athlete as tall as Borsoi will be very beneficial in the near future. She has a lot of faith that, along with the program, she will succeed.