What comes first: Student or Athlete?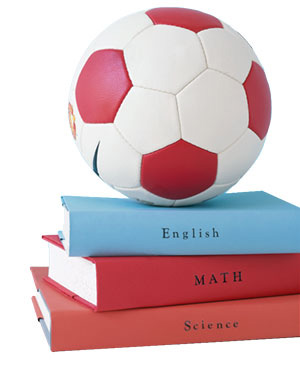 Jordan Hughes, Staff Writer
College is hard enough, now let's throw in being an athlete. Many students here at UC are involved in athletics. Having a full class schedule while playing a sport could be troublesome for time management.
Deciding how to spend free time if student athletes even have any is quite the challenge. The little free time requires them to think on their feet in terms of what needs to get done. It put them in a tricky situation of what is more important.
Tim Quinlan is a dual sport sophomore at UC in which he majors in physical therapy. Managing being a member of both the men's baseball team and of the swim team proved to be quite the challenge for him.
Not only did his stress double because of the sheer lack of time he was presented with, but also being a part of one of the more challenging majors here at UC. The swim season and the baseball season are back-to-back which limited Quinlan's free time to almost none.
He mentioned that both coaches from the swim team, Erin Knight and baseball coach Joe Milazzo did good jobs driving home the point of being a student first while also providing time to get schoolwork done.
In other circumstances, some student-athletes find it easier to get work done when they have less time to procrastinate.
"I was able to do better with my schoolwork because I had little free time," Quinlan said.
There's no procrastination when it comes to junior dual-sport athlete Samantha Whitehouse. She dives right into the large workload she has. Whitehouse is a nursing major, also arguably one of the more challenging majors here at UC.
"With such little free time, I often do work on bus trips to and from games," Whitehouse said.
With little time to do schoolwork, athletes are forced to take advantage of every second of potential free time. Being one step ahead of schoolwork is one big way student athletes can be successful, Whitehouse mentioned.
Whitehouse also said that, participating in both softball and field hockey is a big part of what keeps her on track academically. As a junior, she has seen what it takes to be successful more than just on the field but also in the classroom.
Almost all sports teams on campus set time aside for study halls, giving the players an opportunity to get work done. In most circumstances players share some of the same classes and even the same teachers.
Both Quinlan and Whitehouse agreed that study halls were a great way to get work done, while also providing an opportunity to help teammates if need be.
On the other side of things, Utica College field hockey coach, Nikki Kieffer knows what it's like to have good time management. As a former UC athlete, she's taken her dedication from her years as a student athlete and is imposing it on her team.
Kieffer made it very clear that school comes first, reiterating that there isn't any going back and fixing it. Once you have your grade, that is it, so put in the work now while the opportunity is there.
"It's an understanding that once you're done with your four years, it's your degree that's going to take you places, so that comes first," Kieffer said.
UC prides itself on having some of the best student-athletes in all of division three. It's plain to see the students have the drive and passion to do whatever it takes to be successful in what matters the most: academics.