Luke Perry attends both national conventions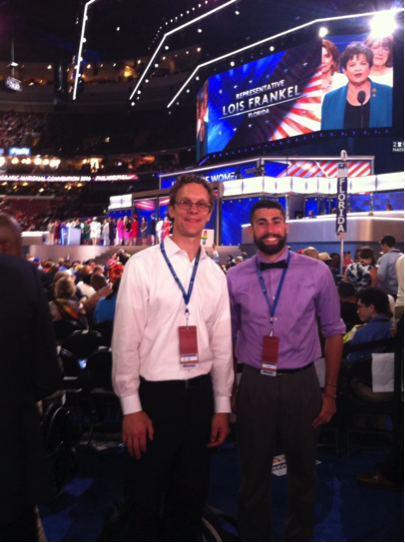 Danielle Stoecker, Staff Writter
The Chairman of the Department of Government and Politics at Utica College, Professor Luke Perry, was given the opportunity to attend both the Republican and Democratic National Conventions this summer.
As an analyst for WKTV, Perry had the idea that it would be beneficial to have someone from the local area attend the conventions. UC approved his request to attend, believing it was a great opportunity, and WKTV also agreed to have him cover the historic events.
Perry's experience at each convention varied, although each had their similarities.
At the RNC, there seemed to be a sense of uncertainty. The Republican Party was entering the convention slightly divided with polarized opinions of the presumptive nominee. As the week progressed, it seemed that the enthusiasm for Donald Trump grew. According to NBC, suspense built inside and outside the arena for Trump to accept the party's nomination.
The DNC also started with some division in the party because of previous Democratic presidential candidate, Bernie Sanders, and his vast number of supporters. However, Perry said that the DNC was filled with more excitement. This could be attributed to the fact that the Democratic Party has a larger number of delegates, causing the convention to be more crowded with a greater amount of enthused attendees.
"The lineup of speakers at the DNC was also incredible," Perry said.
Both events provided Perry, as well as the American public, with several memorable moments. According to Perry, the moment with the most impact at the RNC was Ted Cruz's speech.
Perry said that the arena was filled with anticipation to see if Cruz would endorse Trump.
"I was standing right next to the stage while he was speaking and I could see his teleprompter," Perry said. "I remember looking back and forth between Cruz and the teleprompter to see if an endorsement was coming, and I saw that his speech was concluding and there was no endorsement for Trump. The crowd erupted, booing Cruz."
According to Burgess Everett and Seung Min Kim, writers for politico.com, Cruz could have been the one to unite the divided Republican Party by simply saying, "Vote for Donald Trump," but instead, he chose payback. The DNC, however, provided a different experience for Perry.
One of moments with the largest impact at the DNC was seeing a sitting President speak live and in person. Perry said it was also very effective to see Sanders give his full support to Democratic candidate Hillary Clinton, despite their close and competitive primary race.
Perry is very grateful for UC and WKTV for providing him with the opportunity to attend these monumental events. He says it was an extremely rewarding experience that provided him with a great deal of insight, especially at such a high level in politics. Perry anticipates his upcoming schedule will include attending one of the Presidential debates and the Vice Presidential debate later this fall.