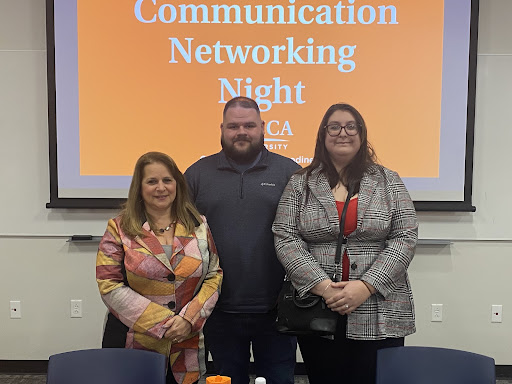 Utica University's Center for Career Readiness hosted a networking event for Communication and Media students on Nov. 2, allowing CMM students to mingle with three Utica alumni who work in various communication fields. 
The graduates' whose job areas range from journalism to business owner and marketing coordinator sat on a panel and talked to students about their careers.
For Daily Sentinel, City Reporter Thomas Caputo said his career journey was influenced by the work he did with Utica's student media organizations such as UticaTV and The Tangerine. 
"A lot of the professors knew how much I was an advocate for journalism so they really looked out for me and helped me find jobs in the area that were related to journalism and also helped me narrow down what would be the best fit for me," Caputo said. 
After receiving help from professors, Caputo was able to secure his current role at the Sentinel before graduating in May 2022. 
Caputo said one of his favorite stories he has written since joining the Sentinel was a profile on Pastor Michael Ballman and how he helped the homeless find places to stay, as well as food and other essentials.
While some speakers found jobs they set out for, one ended up going down a different path than she originally intended. 
"When I was still in college as a transfer student, I worked for The Tangerine as the features editor and then as the managing editor before graduating," said Hollie David, a 2023 alumnus who said while she does miss writing articles at times, her role at the Stanley Theatre as marketing coordinator has ignited her passion for designing graphics for the Stanley shows. "Since starting at the Stanley I've really enjoyed working with graphics and helping with fully fleshing out the making of the shows being done there."
According to Career Coach Alexis Raciopp, though the Center for Career Readiness holds networking nights every fall — typically for students in non-clinical health and human services and accounting —the Communication Networking Night was the first event held aimed to target CMM students. 
"I know that there are many students that are not only interested in communications but some who are interested in specific aspects such as public relations and marketing," she said. "While the Center for Career Readiness focuses more on events such as the career and internship fair during the spring semester, it's not out of the question to host networking events."
Racioppa said one of the biggest things that comes with networking is the opportunity to learn about the variety of occupations that can exist in a particular field.
Deborah Kessler, a 1991 alumnus and owner of the event planning and public relations company Kessler Promotions, advised anyone interested in starting a business to make sure they have a business plan first. 
"Make sure there's a market for your business, even a specific target audience if possible and try to understand who's gonna buy your product and why," she said.