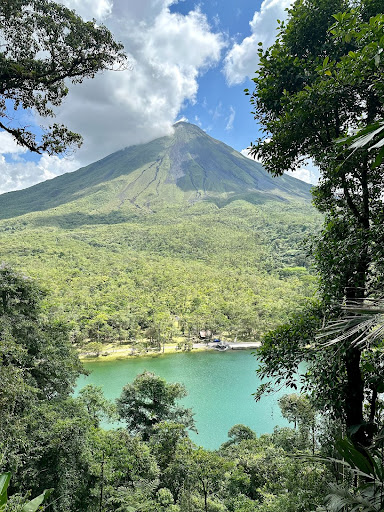 One expression I fell in love with in Costa Rica is pura vida. The term translates to "pure life," but I have learned that it's much more than that. It's an attitude towards life that emphasizes gratitude for the simple things and the idea that life is what you make it out to be. This atmosphere can be sensed all around Costa Rica and brings feelings of calmness and bliss. 
Most places I go to are in the same vicinity as my homestay so I do a lot of walking. Whether I am going to class or downtown, I feel secure. During my walks, I engage all my senses to experience my new surroundings. I hear the melodies of the tropical songbirds. I smell the crisp air and fresh orchids. I see joyful smiles all around. I stop and taste the rich foods at local sodas. I pet the neighborhood dogs and cats which always makes my day. Altogether, these observations relate to pura vida, to notice and appreciate the small things. 
In my first few weeks of courses, I noticed the atmosphere of the university facilitates an eagerness to learn because of its positive emotional and physical space. It's full of natural light and views of the vast mountain range. The study areas are surrounded by unique indoor landscapes with open ceilings that allow fresh air in. Students and professors are welcoming and carry a stress-free attitude. Positive energy radiates throughout the campus.
One aspect of the learning system here that's different from home is that there are no course exams. This eases the stress that students experience from exams. Each of my courses has a weekend and a few day field trips to nature preserves where we conduct research. According to the professors, the field trips serve as a teaching tool, a natural lab setting and a wellness center.
On the weekends, I explore areas outside of the city. The diverse and unique geography of Costa Rica is seen as one of Earth's greatest wonders. I've witnessed the beauty of an enormous volcano surrounded by lush rainforests and white sand beaches with crystal clear waters on the Caribbean Sea. I experienced pura vida during these trips. Why be worried or stressed when you are living in a tropical paradise, Costa Ricans say.
My excursion to the town of La Fortuna and Arenal Volcano was unforgettable. The volcano is the centerpiece of the area and the town is full of history, hidden waterfalls, natural hot springs and dense rainforests surrounded by dense rainforests.
At the bottom of a 500-step trail laid a majestic waterfall surrounded by dense greenery and hanging vines. The water formed into a stream that flowed through rigid rock formations. Fish swam gracefully against the current and sloths lazed in the trees above. The 500 steps were worth it. We relaxed in the water heated naturally by the volcano, gazing at a breathtaking view. Smoke gently oozed out of the top of the volcano and imprints of old lava and ash eruptions made a unique pattern on the sides. I really took the time to soak in this tranquil environment.
The pura vida attitude has shown me a different perspective on life. It is a way to connect with people and share a common appreciation for life and all that it brings. These past weeks, I have grown accustomed to this attitude and it has significantly impacted my gratitude and contentment. 
Breannan O'Hara is a junior majoring in animal behavior with a minor concentration in journalism. She is studying in Costa Rica for the Fall 2023 semester.