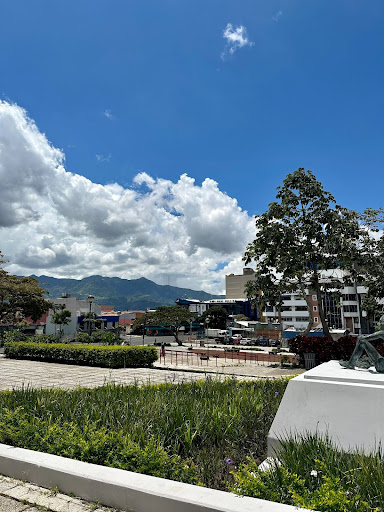 When I first arrived in San Jose, it was night and I couldn't get a glimpse of the new landscape. During my ride from the airport to my homestay in Costa Rica, the first thing I noticed was that the city was filled with light. Not one road we drove down was dim. The nightlight was lively and filled with laughter and commotion.
The upbeat music that filled the city made me want to dance. I was amazed to see that the city had been Americanized, in the fast-food context, and had big chains like Starbucks and Taco Bell.
When I made it to my homestay, my mama tica (host mom) greeted me with a warm hug. Her son was there to translate for me and they made sure I was comfortable and felt at home. They gave me a tour and showed me to my bedroom. The way that plants and the outdoors were incorporated into the house was unique. Each room had an open window to allow fresh air and the backyard flowed into the house. I fell in love with the architecture because it gives a sense of connection to nature even when you are indoors. 
There is a language barrier between me and my host parents that can be frustrating for us but is expected. It challenges us all to step out of our comfort zones and learn a new language. Every day we are finding ways to communicate effectively. Even though we can't understand each other's words completely, compassion and concern is felt and expressed nonverbally. We've had some good laughs in the process. 
Everyday my host mom generously cooks a homemade Costa Rican breakfast and dinner for my two roommates and I. I really feel immersed in the culture with these meals. The food is vibrant and beautifully plated. I've been eating with my eyes first at every meal. 
A major difference between the food here and in America is that in Costa Rica, it's all natural. Every breakfast consists of fresh fruit like melons, mangos, or bananas, a cup of world renown coffee, and a main entree like french toast, an omelet or scrambled eggs with ham. My roommates and I feel like we're in heaven because we usually skip breakfast back at home. For lunch and dinner, rice and beans are in every meal, accompanied by plantains, meat, and vegetables. Our host mom makes sure we are always full. 
Going outside for the first time in daylight felt life changing. Just outside my homestay I could see enormous mountains that surrounded the whole city. It looked like a painting. The clouds touched the peaks and formed around them filling in all the crevices. Since we are in the rainy season it typically starts storming in the evening every day. You can tell it's going to pour when the clouds come up from behind the mountains. It is truly glorious to see these towering giants in person.   
A couple months ago, this program seemed as if it was in the far future but here I am today, living in a whole new world. This will be my reality for the next three months. I am so excited to see what new experiences Costa Rica has to offer.
Breannan O'Hara is a junior majoring in animal behavior with a minor concentration in journalism. She is studying in Costa Rica for the Fall 2023 semester.