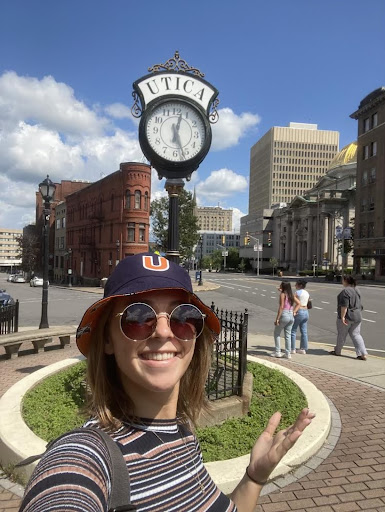 Since coming to the U.S. from Poland a couple of weeks ago, the amount of things that blew my mind has been extraordinary. 
Everything from the lifestyle, attitude, and habits to food and temperature preferences, has been an adjustment.
The question I get most is, why Utica? The truth is, the choice has been kind of out of my control. But to be honest – I do not regret this a tiny bit. I realize that this upstate, far-from-the-city kind of town lets me experience the true American lifestyle – nothing fake or fabricated, simply a perfect representation of the Northeast. 
One of the first things a European would find striking is the omnipresent fleet of cars. The streets are not built for pedestrians, the crosswalks are too few and the distances are too great. Being an exchange student with no access to a car at any time makes you feel small and overwhelmed, and the lack of public transportation doesn't help. Over the next couple of months, I will possibly single-handedly and financially support most Uber drivers in the area.
As far as food goes, I have found that coming home with an additional few kilos is unavoidable. Not only is Utica famous for its food, which makes the temptation much stronger, but never before had I seen snacks such as deep-fried Oreos, funnel cake, or mac and cheese. Eating those felt as illegal as however many calories I ingested that day at the New York State Fair. Yet, I had such a great experience there with my new friends, that I can't help but smile about it.
The people are what make or break any exchange experience. I am fortunate enough to say that with my friends I have not been disappointed. I came with no expectations, only high hopes and more than a touch of uncertainty. I count myself lucky to have found both American and international companions here, people who match my energy and are keen on looking for new adventures. We can have hours-long conversations about the differences and similarities of cultures, various points of view, and outlooks on life. 
That is what I most wanted to experience here – a true cultural exchange with not only Americans but also with people from all over the world, which I feel represents the diversity in the U.S. extremely well.
Experiencing dorm culture has been the biggest adjustment. It was previously a very movie-esque concept for me. This lifestyle is a unique mix of personal and academic life, creating a spectrum of the chance to live, sleep, eat, study, exercise, and have fun all in the same place, with the same people. It makes you feel as if you are on a 4-year-long summer camp.
What I love here is how personal and intimate it all seems to be. As a student, you aren't made to feel like you are part of an anonymous and unimportant mass. The staff, faculty, and students around you genuinely care about you. Sometimes it's the simple acts of smiling and greeting somebody while passing, holding the door for a stranger, or striking up a casual conversation with someone new. The feeling of unity stemming from shared experiences makes you feel like you belong, whether it's going to cheer for our sports team or proudly wearing merch. 
The experience is one of a kind. You are missing home, feeling overwhelmed and stressed, having trouble adjusting to cultural differences, all the while having one of the absolute best times of your life. This adventure has already done so much for me, opened my eyes to a whole new world out there, and put certain things and beliefs into perspective. I simply cannot wait to see what lessons the next months bring, and what other memories and stories I'll be able to tell for the rest of my life.