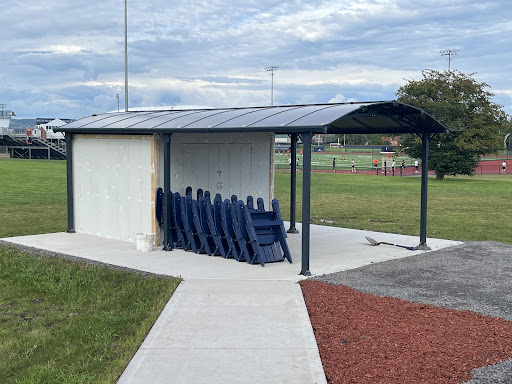 Alumni and members of the construction management department will dedicate a new patio in honor of John Paul "JP" Ramel outside of Thurston Hall's side lawn on Saturday, Sept. 30 at noon. The dedication is part of Homecoming Weekend. 
Ramel was a senior when he passed away after suffering a stroke during the spring 2022 semester. He was an active member of the construction management program, many recalled, and the Utica University community. 
According to Construction Management Department Chair Dimitar Todorov, Ramel was an involved student and achieved many accomplishments, from leading the Student Contracting Association to volunteering as a firefighter.
"We were actually trying to get him to slow down," Todorov said. "Since he was doing so much. He had so many projects, and was even working part-time at a landscaping company."
One such project that Ramel had a particular interest in, Todorov said, was the construction of a patio outside of Thurston Hall. 
"Our program has these smokers for the cookouts we do for homecoming and other events," Todorov said. "We were told that we needed to move them out of our material labs, and JP's group suggested building a shed and patio for them."
From there the project went into a planning and development stage, Todorov said, with many different designs and locations being considered. Unfortunately, Ramel passed away before the project could be completed.  
"After he passed, everybody wanted to do something," Todorov said. "Through donations, primarily from students, faculty and advisory committee members, we put some money together, and we knew that we wanted to finish JP's patio."
Audrey Cross, assistant professor of construction management, played a major role in the development of the patio and highlighted the progress the team has made toward its completion. 
"It started last spring," Cross said. "The concrete slab was poured and that was it. Then, my colleague [Professor] Randy DeFranco actually designed [the shed and patio], and I, along with everyone else, made it come to fruition."
According to Cross, most of the progress on the patio was made on the weekend that students first began moving back into campus, where she planned a two-day long building event. 
"We started with literally nothing," Cross said. "Basically a pile of lumber. We framed the walls, put on the roof and the siding, we had teams working on the pergola, the framing, painting; we all had an integral part in making it what it is."
All that is left to complete the project, Cross said, is the final coat of paint and the installation of the dedication stone for Ramel along with perennial flowers that will be planted around the memorial plaque stone. 
Todorov thanked Ramel's friends and classmates who came back to work on the patio and said it was a way to really bring the community together. 
"For us, it's a way to remember him," Todorov said. "A place for us to come together. It's what he was working on, and we're happy to have finished it for him."