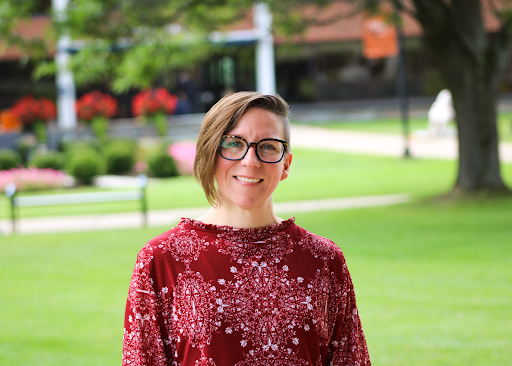 Many people envision their future careers a certain way growing up. However, some take a different path that changes their original aspirations, and things turn out how they were meant to be. Dr. Nicole Lawrence, assistant professor of English at Utica University, is one of them.
"I did not want to be an English person, in fact, I sort of avidly ran away from it when I was in high school," Lawrence said. "I was really good in science, specifically in biology, since I was little. I was always interested in the ocean so I wanted to be a marine biologist."
Lawrence, who is new to Utica, said over time her love for biology began to shift from the ocean and more towards pre-med. In her freshman year of college, she failed chemistry, one of the first classes she had ever failed. At that moment she realized she had been running away from her natural talent for reading and writing, which was the true path she was searching for. 
She then transferred to the University of Massachusetts-Amherst.
"I picked up an English major and a double major in women's studies and started reading and writing from there," Lawrence said.
Lawrence, a first-generation college student at the time, didn't understand how college worked and spent most of her undergraduate years figuring it out. Once senior year rolled around some of her professors suggested that she go to graduate school.
"They said I should go to grad school for an M.F.A. since I had a concentration in creative writing," Lawrence said. "But I had bills to pay so I needed to get a job, so I had three jobs while I was in college. One of them was being a barista at Starbucks which ended up with me becoming a store manager for Starbucks. I wore an apron for over 13 years."
After working for some time, Lawrence returned to grad school to pursue a creative writing/poetry degree at the University of East England. While there an employee asked her if she could edit one of their admission applications then suggested Lawrence apply, and she did.
"I got a degree in poetry, but I realized that I didn't really want to be a poet, I was more interested in the critical studies of literature," Lawrence said. "So when I moved back from the United Kingdom after grad school, my partner was still going to grad school at the time."
They both moved to Chicago where she continued to run a Starbucks store for another five years while her partner finished grad school. Lawrence furthered her education by going to Rutgers University in Camden for a master's degree in literature, which eventually led her to attend the University of Connecticut for her Ph.D. in literature. 
After earning her doctorate degree, she started a teaching job at Blackburn College, located in the south-central area of Illinois. However, she eventually began looking for a new job and heard about Utica University.
"When you're looking for a new job position in literature, a list of jobs may pop up but some just don't fit you," Lawrence said. "There were a few British literature jobs and I applied to ones that were on the East Coast."
The thing she liked most about Utica University is that the school's population isn't too tiny but also not too big.
Lawrence currently teaches a class in 18th Century British literature that allows students to read some of her favorite novels, including Mary Shelley's "Frankenstein," Brahm Stoker's "Dracula" and Oscar Wilde's "The Picture of Dorian Gray."
"I think that while Dorian Gray is considered British literature, it's also LGBTQ literature as the protagonist of the novel is gay," she said.
Lawrence explained that while the Frankenstein and Dracula characters aren't necessarily considered "queer," they have undefined characteristics or just an overall in-between likeness about them that she finds fascinating and compelling.
"I like working with those texts with students because they are also quite challenging texts," Lawrence said. "I think reading old literature can be really challenging for some people, but the themes are surprisingly modern such as feeling different or feeling like you don't fit in with others."
Lawrence said one thing that stands out to her since moving to Utica is the food. 
"My experience of moving from a small community with only about ten restaurants to a place where I can basically eat my way through the town is kind of a wonderful experience," Lawrence said.
Lawrence said one piece of advice she can give to those who want to teach English is to spend time finding what it is you love about literature.
"Find what connects you to certain types of texts. I didn't realize I liked British literature when I was in undergrad," Lawrence said. "I kind of avoided it cause I had a bad experience within my British literature class, so I didn't start to really look at British Literature until I was in grad school and that's when I realized the text we read in British Literature are often very strange and weird, but also perplexing."