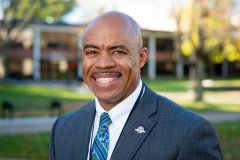 Musco Millner, Utica's former director of campus safety, has become a full-time professor at Utica University after serving in the position for four years in addition to being a mathematics professor at the university.
Millner said his ultimate goal was to someday teach in a full-time capacity. 
"I'm grateful for the journey with the Office of Campus Safety and truly believe that, as a team, with the help of students, faculty, and staff, we accomplished some wonderful things in the past four years," he said. 
Millner has not only assumed the role of a full-time professor of mathematics, but also for criminal justice in his new role as assistant professor of criminal justice. However, Millner said his teaching journey began with mathematics.
"My teaching journey began as a substitute mathematics teacher and tutor for the Rome City School District some twenty-plus years ago," said Millner. 
After serving the New York Police Department for 26 years, he was given the opportunity to have a "set" schedule and more free time on his hands.

"As a result, I made myself available to the Rome City School District on those days," Millner said.
In 2011, after he returned to the area from his previous position as case management senior investigator for the New York State Police Crime Laboratory System in Albany, he then became an adjunct professor at Mohawk Valley Community College where he taught courses in mathematics and forensic science. 
Millner said one of the best parts of being a professor is the continual engagement with students.
"The opportunity to present material that I am passionate about to the hungry minds and thirsty spirits of these future leaders of the world is something that I do not take lightly," Millner said. "One can't place a dollar value on the feeling one gets when one observes moments of comprehension and understanding; i.e., those 'ah ha' moments, that present their beauty in the learning environment."
Along with the new change, Millner is furthering his education and is pursuing a doctoral degree at University of Albany.
"My potential research idea involves an examination of statistical enrollments of students in mathematics courses, disaggregating the data by race, ethnicity, or socioeconomic status to assist me in developing a problem statement," he said. "My interest remains in answering the question: How do black undergraduates feel about studying math"?
Some students who are familiar with Millner showed their support for his new endeavors as a full-time professor.
"I believe that Musco becoming a full-time professor here at Utica University is a very good thing," said Freddie Pinto, a cybersecurity major in his sophomore year. "As he teaches his classes, he wants the students to take in the information that he has stated in them and hopes that they take it with them on a day-to-day basis and hopes the information will make a positive impact for them."