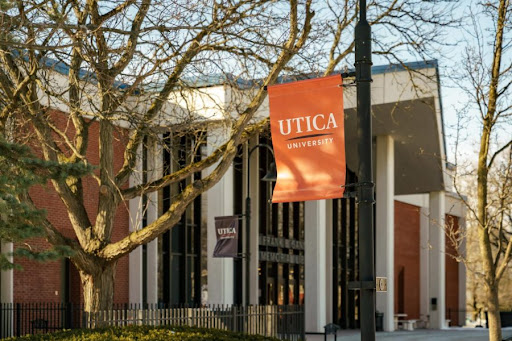 After a nationwide search, Roberta Comerford has been appointed the new Director of Campus Safety at Utica University. Former Director of Campus Safety Musco Millner stepped down from the role after four years to pursue his Ph.D. Comerford's first day at the helm was on June 15.
Comerford brings in an extensive background in the military and campus safety. She currently holds the rank of Lieutenant Colonel and most recently worked as the director of campus safety at Cazenovia College before it closed after the Spring 2023 semester. Comerford is no stranger to Utica, having begun her military career at the Parkway East Armory in East Utica.
"I have the privilege of serving our country for over 29 years in the New York Army National Guard," she said. "I started my military career right here in Utica as a Specialist up to my current rank as a Lieutenant Colonel. As a combat veteran, I have been deployed three times, and also have served our state during state emergencies."
After leaving Cazenovia College, Comerford was looking for a new place to call home. The faculty and students at Utica University answered that call.  
"I was looking for a new family. I had a family at Cazenovia College and was looking for a place where I felt like I would be part of a family team again in higher education, which I have found here at Utica University," Comerford said. "From the time I started the interview process through present, overall, I have been treated well by employees and students."
Students were part of the interview panel, Comerford added, and appreciated the opportunity to meet with some of them prior to starting here. 
Shad Crowe, vice president for Facilities and Emergency Management at Utica University who chaired the search committee for the director of campus safety position, said having prior experience in campus safety and a "relatable personality" is crucial to the role. 
"That office [Campus Safety] is the hub of the entire campus," said Crowe. "So that individual, the Director of Campus Safety, must be compassionate, empathetic, understanding and also able to provide people with the right resources to help them."
Crowe said Comerford's professional experience combined with her likable personality is what made her the right fit for the Utica University Campus Safety team. 
"She clearly has a work ethic, that's undeniable. She also has a relatability," Crowe said. "We talked to students at Cazenovia and the students really liked her and got along with her. I think she's really going to do a great job here." 
Comerford listed learning more about Utica's students and what their concerns as a top priority for this academic year. She hopes to not only listen to students but also to educate them on the resources that Utica University has to offer, such as Safer U.
Safer U is Utica University's safety app, which provides a multitude of resources for faculty, students and parents. It allows users to receive important safety alerts, review emergency plans and locate and contact resources on campus. The app even has a "friend walk" feature. 
"A friend walk is when you can share your location with a friend for the duration of your walk around campus and you can end your sharing of location at any time," Comerford explained.
The app provides added security to individuals on campus and is available for download on the Apple and Google app stores. QR codes with a direct link to the app are posted all over campus, and students are encouraged to join the platform.
As the new school year unfolds, Comerford reminded students to remain vigilant, present and to seek assistance when they need it.
"Take notice of your surroundings. If you notice something that concerns you let Campus Safety know," she said. "[The] Bottom line is, Campus Safety is here to help."
CORRECTION: A previous version of this story contained misspellings of Roberta Comerford's name.  Corrections were made in this story.