Utica's Stars: Valedictorian and Salutatorian announced
How does one define success? For valedictorian Thomas Morreale and salutatorian Isabella Hudziak, success looks like working as hard as you can to do your best.
Thomas Morreale, majoring in Mathematics with a concentration in adolescent education, said other students also have 4.0 GPAs and he would have understood if someone else received the position. He was pleasantly surprised to find out he was named valedictorian.
"Honestly, just to work as hard as I could and get the best education I could while having a good time playing basketball, that was really just my main goal," Morreale said.
Morreale has been a member of the men's varsity basketball team during all four years that he's been at Utica. Due to the several hours of demand that the sport takes per day, he said balancing and excelling in the sport and classes is one of the things he's most proud of. 
Aside from playing basketball and remaining top of his class, Morreale is also a student teacher in the Whitesboro School District. 
His success was driven by the vision of the future he wants for himself. He doesn't want to have regrets when he looks back.
"It's the life I want to live," Morreale said. "I have my goals that I want for the rest of my life and I know that it all starts now. The hard work starts now." 
Morreale said much of his success comes from his parents raising him right and teaching him important values that have shaped him into being a hard worker. Values like being able to have relationships, accepting support, accepting responsibility and having discipline. 
"You know, everything's not always going to be easy in life so being able to work through those hard moments is probably one of the greatest things that they've taught me," Morreale said.
These values, especially leaning on relationships with teammates, friends, parents and even professors, got him through his most difficult challenges—losing teammate Chris Bamba in his freshman year, and transitioning into learning in isolation during COVID. 
Learning in isolation was one of the greatest challenges for English education major and The Tangerine's 2022-23 editor-in-chief, Isa Hudziak. Coming into Utica during COVID as a commuter made it difficult for her to find a place where she belonged.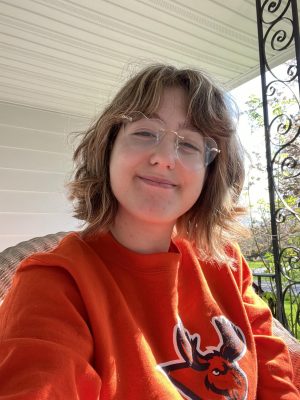 "My first semester, I was submerged in difficulty," she said.
In addition to the isolation, because of a transcript error, she had to cram in two 3-credit courses in the final 8 weeks of her first semester of college.
"What made it a lot easier for me was that my sister Gabby also went here," Hudziak said. "She worked at the radio station so I was able to tag along with her and we were each other's company."
Starting with the radio station, she found her niche in the media groups, transitioning to the Tangerine to work up the ranks from special assignment reporter to news editor to managing news editor to editor-in-chief, with a stint of being a host at UticaTV for a semester as well. 
Hudziak credits Tangerine adviser Mary Christopher with helping her find a community on campus outside of the English department, introducing her to people, and helping her with writing and interpersonal communication skills.
"I'm shy, but I want to go into teaching, so I wanted to find any way I could to speak to people, and interviewing is the perfect way to do that," Hudziak said. 
Her greatest motivator to succeed is her family, especially her dad, who's a high school teacher. 
"Seeing the way that he lit up with pride when his students would turn in assignments and then he would be able to give them that high grade really inspired me," she said. "I really wanted to show them that I could do it." 
Having a safety net of faculty and campus groups is an important factor to success for Hudziak.
Hudziak will be returning to campus next semester to pursue a Master's in adolescent education. Morreale said Utica might see him on campus pursuing his Master's degree next semester as well, depending on the career route he chooses.