Munson Williams Proctor Arts Institute rebrands with new name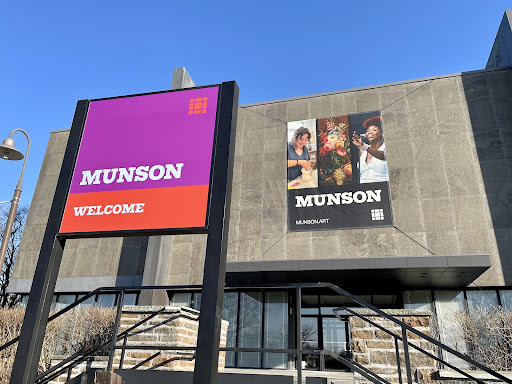 The local museum formerly known as Munson Williams Proctor Arts Institute (MWPAI) has recently rebranded and changed its name to Munson.
The 104-year-old institution was founded by industrial businessman Alfred Munson, his daughter Helen Munson Williams, and her daughters Rachel Munson Williams and Maria Watson Williams and their husbands, Frederick and Thomas Proctor.
The museum, located on Genesee Street in Downtown Utica, celebrated the Munson reband with the community at a launch party on March 28. However, eliminating the Williams and Proctor names was seen as controversial by many comments on their Facebook page.
Some Munson followers were upset and opposed the rebrand, responding in sad and angry faces, saying the change was "ridiculous" and poorly done.
"…The name change/removal robs the institute of its name heritage and title significance by now choosing to be called by a nickname…," wrote Pamela Anderson.
According to Munson's Director of Marketing and Communications Cassandra Williams, changing their name changed the brand's equity and clarity, hopefully raising Munson's profile regionally and nationally to help them become an art destination while also increasing their community involvement.
Williams said over the past 15 years consultants have come in to evaluate the institution and brand and have unanimously and unequivocally said the name was too much and too long. The acronym MWPAI was complicated, too. For MWPAI to be easily recognizable, they'd have to change their name.
"It's a stellar museum so we want people to come visit us," Williams said. "It would also help with economic development in the region."
A big draw for Munson is their annual blockbuster summer exhibition; usually displaying a high profile traveling show. Andy Warhol, Norman Rockwell and Monet to Matisse are just some of the previous exhibits. This summer, it'll be Sporting Fashion, the first exhibition to explore women's athletic attire from 1800-1960.
Williams said their collection of more than 12,000 pieces is one of the best collections from New York City to Chicago.
"We have two Rothkos that are traveling to Germany, the only Rothkos leaving the states to travel and they come from our institution," Williams said. "Our 20th century collection is insane."
So why Munson? 
The Munson name is most representative of how the Museum was founded, said Williams. The art collection itself was started by the three Munson women. And the rebrand is not just a name change.
Their new icon is a birds-eye-view of the museum, and the cross geometric design represents connection and unity. The typography and eight new colors added to their palette represent the organization's roots.
The new type was designed after the original, hand-lettered typeface done in 1960 by a female graphic designer, Elaine Lustig Cohen. The brand colors were taken from archival documents found on old member newsletters found in their basement.
"Everything about our brand honors the history and the legacy," Williams said.
Utica has recently undergone a rebrand itself, from Utica College to Utica University in 2022. Members of the Utica community shared some strong opinions regarding the institution changing its established name.
Polish transfer student Michał Kozub has been to the museum three times in the past few months. He said the rebranding is a good thing.
"It's easier to talk about it and carry the conversation," Kozub said.
Senior Erin Bruttomesso hasn't visited the museum, but said she understands the name change. However, she thinks it "took away the recognition of the other names."
"Maybe you could've represented them in other ways, their last name in other ways," said Bruttomesso. "Other than that I do see how Munson ties them all together…but at the same time if they are recognized as this long name…then maybe they could've just kept it."
Distinguished Professor of Psychology Steven Specht had a different perspective.
"I love it…if it was a new museum," Specht said.
Specht said rebranding usually costs institutions a significant amount of money, where consultants get paid tens of thousands of dollars "because certain people with the power to control the purse strings think that this is going to make the institution into something different…which it usually doesn't."
Specht wonders what the return on investment is for institutions that rebrand…"or is this just making consultants richer and people in power, make them feel like they've done something corporately innovative."
He said he's okay with new things and exploring, but specifically to Munson, they're getting rid of two of the names that have been historically affiliated with the institution.
"I don't want to offend anybody, but I'm not quite fully on board with this…because I'm not really interested in fixing problems that don't exist, especially if it costs money," Specht added.