Utica to host Sitrin's Celebrity Classic Wheelchair Basketball Game this week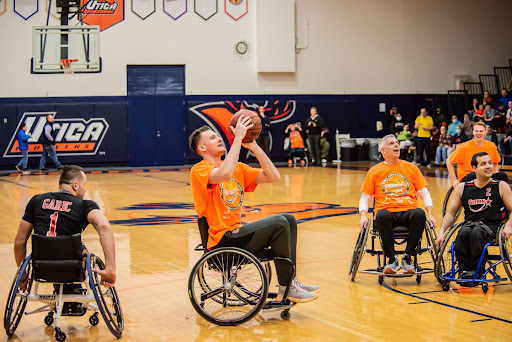 The Sitrin Foundation will host the 19th Annual Celebrity Classic Wheelchair Basketball Game on Thursday, April 20 at 6:30 p.m. in the Clark Athletic Center at Utica University. 
Syracuse University standout basketball players Benny Williams and Quadir Copeland will headline this year's Celebrity Cruisers team and two fans will have the chance to compete against Williams and Copeland in a three-point competition at halftime. 
A new addition to this year's celebrity team are members of Syracuse University's men's soccer national championship team, according to Marc DePerno, the director of the Sitrin STARS Adaptive Sports Program.   
Attendees will also have an opportunity to receive an autograph from the Syracuse University athletes at no additional cost. 
Proceeds will support the STARS (Success Through Adaptive Recreation Sports) adaptive sports program, fund the purchase of new sports wheelchairs and equipment and help offset training and competition expenses for STARS athletes. 
The program provides sporting opportunities to people with physical disabilities at a recreational, competitive and Paralympic level. The Sitrin STARS athletes compete both locally and around the world.
Competing against the STARS are the Celebrity Cruisers, a team comprised of regional athletes and people who make contributions to improving the Mohawk Valley. 
"The STARS are excited to return to the court and showcase their amazing abilities," DePerno said. "We are very grateful for our sponsors and supporters, as well as Utica University for providing an exceptional venue each year."
Tickets can be purchased online or at the door and are $10 for adults over 18 and $5 for students of any age. Children under 5 will be admitted free of charge. For ticket information visit: www.sitrin.com/celebrityclassic