Recent Utica University Town Hall reveals progress of DEI initiatives and sets goals for the future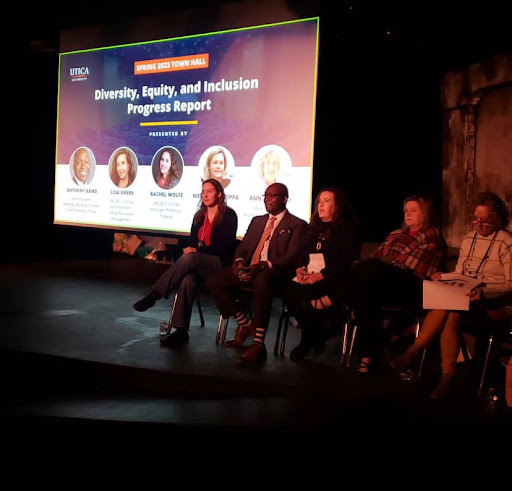 The Utica University Diversity Equity and Inclusion Collaborative held an open presentation on March 29 to discuss the status of ongoing DEI initiatives. The panel of collaborative members, composed of Utica University faculty and staff, shared current DEI operations, assessed the climate of the campus and outlined their vision for the University's future. 
The progress report began with a moment of silence to honor victims of violence and the deceased members of the Utica University community. The panel reiterated the University's stance statement and statement of principles before discussing the current progress of the Collaborative's Operational Plan.
Anthony Baird, Chief Diversity Officer and vice president for Diversity, Equity and Inclusion & Student Transitions, led the panel discussion and outlined the current Operational Plan, which includes creating sustainable infrastructure, establishing collaborative relationships, furthering professional development and expanding curricular offerings. 
"I'm here to tell you that the state of Diversity Equity and Inclusion at Utica University is good and steady," Baird said. "Our efforts to support this goal required that we demonstrate creativity and innovation, always looking to see where we can align our resources and efforts."
Baird invited presenter and Vice President for Human Resources Lisa Green to discuss the state of employee diversity at Utica University. Green displayed statistics on the screen to show the current state of employee recruitment and retention. 
"Our pools of applicants are very strong overall but our recruitment rates and retention rates have not been where we want them to be," she said.
Green disclosed the initiatives that have been in the works for years to develop more inclusive hiring practices and increase diversity among faculty. 
"As many of you know, we implemented updated hiring practices in 2017, early in 2017, to ensure that we were having a more inclusive process. This is when we began doing things like expanding our recruitment resources," she said. "We also implemented the community liaison model to offer a confidential space for candidates to ask questions they might not want to ask the committee about resources, culture and anything more." 
Green said while progress has been made, continued efforts are needed to increase employee diversity. 
"While we began strong, we have stalled some and there's multiple reasons why," she said. "There's work to do, there's no doubt about that."
The panel moved to discuss plans for the University's curriculum, which underwent a recent review to incorporate DEI principles. New curriculum goals were set to challenge students to reflect, investigate and engage anti-racism and anti-bias actions. 
Students are required to take two DEI-designated courses during their education at Utica University. According to Melissa Racioppa, assistant professor of Psychology-Child life, the number of DEI-designated courses has increased from eight to 38 in just a few short years. 
"This increase to 38 courses is an increase of almost 500% from what was offered in the old core [curriculum]," she said. "This demonstrates the faculty's immediate commitment to the importance of bringing DEI into the curriculum." 
Racioppa said the necessity of a DEI-focused curriculum is not just for the institution and its goals but also for the future of Utica University students. 
"The drive for this change is based on more than just the institutional goal," she said. "It was developed out of a growing awareness that cultural humility is something that our students need to be successful in today's world." 
Goals for student success and the campus climate at Utica University were aspects closely discussed by the panel.