Laurah Klepinger Profile: 'If there's one professor you would go to knock on their door and chat with, just go to Laurah'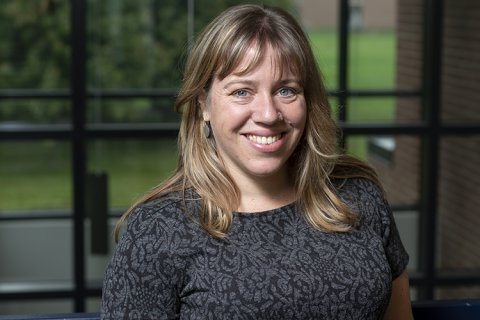 Laurah Klepinger is a life-long student.
Since her first time in college, Klepinger realized how much she loved learning and writing papers. Encouraged by her grandfather through their frequent correspondence by letter, she decided, "I would do this forever." 
"Learning and communicating with other people who have challenging thoughts and ideas and try to understand complex theories, that's my love," Klepinger said.
She now holds a Master of Arts and a Master of Fine Arts in Dance, a Master of Arts and Ph. D in Anthropology and completed a Bachelor of Dance Arts. 
Klepinger has been teaching in the Anthropology department at Utica University for almost seven years. Helen Blouet, Chair of the Sociology and Anthropology department, describes her as approachable and eager to connect with students. That's a legacy she carries from a past professor and friend throughout her life, Evelyn Vélez-Aguayo. 
Klepinger recalled the role Vélez-Aguayo played in "shocking me out of myself," by being a down-to-earth professor that cared about her students and asked about their lives beyond addressing course-related material. She inspired Klepinger to begin yoga and gave her her first yoga mat and pillow.
It was through yoga that Klepinger found a deep spiritual community that she spent many years with, the Sivananda Yoga Vedanta Centres. Klepinger was deeply connected to the organization, traveling with them, doing yoga courses in India and directing children's yoga camps. The women cooking and cleaning for the devotional community became an inspiration for Klepinger's book, "Transnational Yoga at Work: Spiritual Tourism and its Blind Spots."
As she was working on her now-published book in December 2019, a woman that was a longtime affiliate with the organization came forwards alleging sexual abuse, and many women followed suit. Many people she cared about were accused of abuse and/or of helping to cover up alleged abuse. It was a "shattering of my faith," and then the "deep darkness and solitude of COVID came up," Klepinger said. 
Through it all, Klepinger remained a source of inspiration for her students. 
A graduate of the anthropology program, Cara Patterson said Klepinger sparked her interest in social justice, diversity, equity and inclusion and made her think about the world in a different way. She learned to view cultures through a different lens. 
Patterson learned about empathy through her classes with Klepinger. 
"I see that as being her gift, her natural empathy," Patterson said. "You can sense she cares about you and she cares about what she does." 
As part of the search committee that hired Klepinger, Blouet says Klepinger's creativity in teaching on campus and online stood out to her. 
"She's not trying to be aloof or untouchable expert, but she's trying to bring her knowledge to the students, get them to apply it to their own lives, get them engaged in their own learning and to be motivated and complete tasks at hand," Blouet said.
Klepinger brings her expertise to help connect what's going on academically to a larger, more widespread DEI office on campus and is instrumental in connecting programs across campus. 
In addition to being involved in various programs and being a professor on campus, Klepinger has been a single parent for most of her eleven-year-old daughter's life. She describes her relationship with her daughter as the most challenging and most beloved.
Her own mother has been the most influential person in her life. She got her self-esteem and confidence to try new things from her relationship with her. Klepinger wants to pass that on to her daughter as well.
Klepinger uses the privilege of being empowered by her upbringing and is a force of inspiration on Utica's campus.
As Blouet says, "If there's one professor you would go to knock on their door and chat with, just go to Laurah." Her office is equipped with bean bag chairs.