Island Breeze Bar and Grill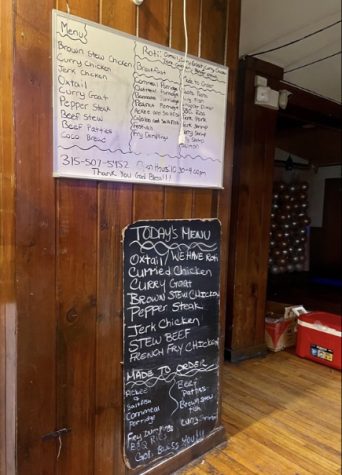 Groovy reggae was playing at 517 Mandeville St. when I came in to order dinner. The restaurant was empty except for two men standing as they waited for their order. The standing tipped me off that I should not eat inside, even though there was seating available under the over-head lights, changing colors from green to blue to purple. 
A whiteboard menu listed their dishes: brown stew chicken, curry chicken, jerk chicken, oxtail, curry goat, pepper steak, beef stew, beef patties and coco bread. There was a breakfast menu and a "made to order" menu as well, including Rasta Pasta, King Fish, Snapper Dinner, BBQ ribs, jerk pork and shrimp, curry pork and shrimp, and salmon.
"We only have oxtail, goat and stewed beef," said Shevon Grant, the owner's sister and order taker that day, before I could take it all in. Due to an aversion to anything goat-related, I ordered oxtail and my husband ordered goat curry.
Our meals came with flavorful rice and beans, stewed cabbage and a bit of carrots and potatoes. The oxtail was tender, hearty and flavorful. I almost wished there were more than 5 oxtail pieces, but felt satisfied and full when I reached the end of my meal. 
As for the goat curry, besides the minefield of bone shards, it was "exceptional." The portion I tried tasted gamey and very tender. 
"The people who are uppity don't want to admit it, but it tastes the same as lamb," Marinus Nortje said. 
The curry rice was spicy. I think I said "delicious" about six times during this meal.  
We paid $35 for two medium meals—slightly overpriced for a take-out situation in my opinion.
"Oxtail, jerk chicken, pepper steak, brown stew chicken…curry goat," said Grant, listing their popular dishes. She can't pick a favorite because she loves them all. They're a taste of home.
I blame the limited menu that day on it being a Tuesday night, but you can call them at 315-307-5452 to see what they're serving.
I felt good leaving the restaurant with my takeout bag. 
"Thank you," I said. 
"You're welcome baby," Grant said. "Have a blessed one."