Q & A with Julianna Beaulieu: Juggling basketball, soccer and more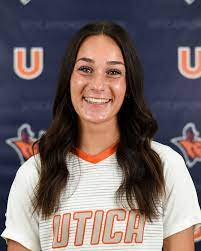 Junior Julianna Beaulieu is a student-athlete at Utica University studying psychology-child life. Beaulieu entered her college career as a dual athlete playing for both the women's soccer and basketball teams. Her story reflects the passion many student-athletes have for their sport at the collegiate level. Excelling in the classroom is a top priority while managing to make time for a personal life with family and friends – and even an endorsement deal. 
Q: When did you start playing soccer? 
A:  I started playing soccer when I was about 4 years old. I played with a co-ed team in the town I grew up in and from there it sparked my interest in club soccer and I continued my passion for it throughout high school. 
Q: How has your experience been here as an athlete here at Utica University?
A: Being an athlete at Utica University has been one of the greatest experiences for me. I have met so many of my closest and best friends from being on an athletic team. I could not imagine ending my athletic career after high school. Playing a sport throughout college has helped me keep my grades up and has brought so many amazing opportunities my way. I love my soccer coaches and all the positivity they share with my teammates and myself. They truly want the best for us and would do anything for us. Coach Brooke and Coach Caroline make me want to be the best player that I can be and they push me to my fullest potential. 
Q: Why did you decide to transition to soccer from basketball? 
A:   I decided to pursue soccer for a couple of different reasons. At the beginning of 2022, my grandfather passed away. One of the biggest passions we shared was the love of soccer. After he passed I continued to find ways to stay connected to him and the one thing I knew I could do, was to do everything I could to keep that passion for soccer and play at the collegiate level. Going off of that, I knew playing two sports at the collegiate level would be difficult. I stayed with basketball for a couple of weeks once the soccer season ended but then I decided that basketball was not for me anymore. Even though I love the sport and my past teammates now, I just knew my passion for basketball took a backseat after the last season. I had just finished for soccer. I felt a different sense of self-confidence and mental toughness being on the field, especially with the amazing support from my soccer coaches. Playing soccer and deciding to only focus on soccer was definitely an amazing decision and I'm very excited to see what next season holds for me. 
Q: With the rise of name, image and likeness (NIL) opportunities and social media, do you recommend that athletes utilize social media to their advantage?
A:   I can definitely say that athletes should use their social media platforms to their advantage. Being an athlete is a huge deal and a lot more work than people may perceive. People love to see everything that comes into play with being a college athlete. The opportunity to have a NIL deal with Dunkin' Donuts has been one of the coolest opportunities for me and I hope there are more in the future. Whether you are a D1, D2 or D3 athlete, kids and young adults will look up to you and they want the little push to continue their love for sports at the collegiate level but some may not know how. You can use your social media platform as a way to bring awareness to your school, athletics, academics or even your own recruiting process. Social media can be helpful to people in so many different ways.
Q: Can you tell me more about your sponsorship with Dunkin Donuts?
A: Our Athletic Director Dave Fontaine reached out to me saying he received an email from a NIL company revolving around Dunkin Donuts and they had an interest in me being a paid sponsor for them. My deal with them was to post as often as they wanted, whether it was on Instagram or TikTok. There were guidelines for each post but I pretty much had as much freedom as I wanted while creating the content. After I would make each video or post, I would send it to Opendorse with a caption and wait for it to get approved then I uploaded it. Then after I confirmed each post through Opendorse I would get paid through them. It was really easy and really fun creating content. One opportunity was working the window at a Dunkin in Utica and giving customers their orders and I would give them gift cards as well. Then I went to Proctor High School in Utica and I had a meet and greet with the Girl's Varsity and JV soccer teams. They had so many questions to ask me, it was an amazing experience. We chatted, ate doughnuts and drank hot chocolate for an hour, and did an interview with the local news. 
Q: Do you have any tips for student-athletes balancing academics and athletics?
A: My biggest tip I can give to student-athletes with balancing everything as a whole is to have an agenda. Balancing your academics and athletics can be easy if you can see everything you have to do written on paper and right in front of you. For me, it has been one of the best things. Especially making sure I get my assignments done, attending lifts and practices, working on and off campus and making time for my NIL deal.