Turn up the heat: Downtown Utica's Brooklyn Brisket Brothers has it all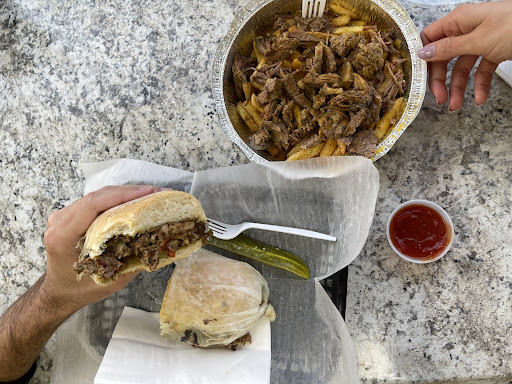 Brooklyn Brisket Brothers is new on Genesee Street in Utica, and after being disappointed by the lack of lunch options in downtown Utica, I decided to try them out. What really convinced me was a man walking from Brooklyn Brisket across the street to his car. There's nothing like seeing someone with a plastic bag of takeout that makes you a hungry accomplice. 
I felt unsure walking in because I saw a salad bar at the counter. Salad bars are undecided meals- they can be anything and hide anything: carrot shaving, raw chickpeas, cranberries. It's frightening. 
But the smell of smoky meats and lively spices on a frigid January day felt right. I came for the brisket. I ordered brisket fries. My husband ordered the Brooklyn Brisket sandwich and a Cherry Coke that I grabbed from a cooler next to an ATM. We sat facing the street view which is a nice way to enjoy lunch. The outside view was also a better alternative to the interior of the place.
You feel like you're in New York City. There's hard working men making sandwiches and stocking restaurant supplies, slicing beets, taking orders, making smoothies, brushing off comments on adding green onions to the brisket fries. There's an ATM within arms reached and empty boxes stacked for recycling. 
A friendly young guy brought our steaming meals and a pile of napkins. I shouldn't have asked for ketchup for my fries because the flavor of the spiced brisket seeped into the fries and left a delicious pool of broth underneath, rendering the ketchup useless. 
The sandwich was satiating and hearty. It was simple-seasoned brisket and bell peppers, with a crunchy pickle on the side. 
According to a lady at the bus station and confirmed by the employee, their lamb over rice is extremely popular. The guy who served us said one of his favorites was their quesadilla, filled with peppers, onions, jalapenos and cheese. Everything about the food was delicious.
They've got it all- a variety of smoothies, freshly squeezed juices, paninis and wraps, brisket everything, burgers and sandwiches, chicken and lamb over rice and don't forget about the salads. There's even an ATM, two coolers full of soda and window seats. Best of all, they're open when you need them to be and available for delivery on DoorDash when you can't be bothered. 
Bon appetit, cuties.