Utica University travels to Egypt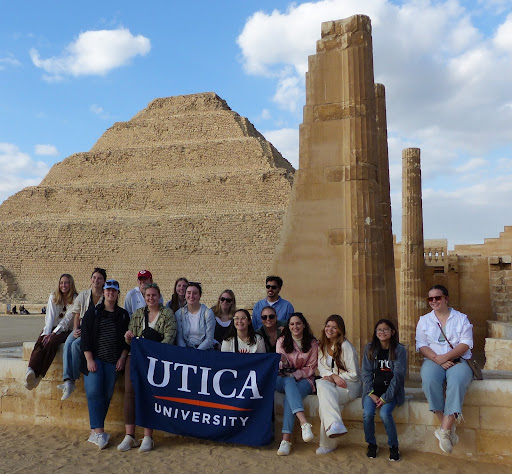 The start of this new year also brought the return of Utica's study abroad programs, kicking off with a faculty-led two week excursion to Egypt. 
Associate Provost and Dean of Graduate Studies Daniel Kratochvil took a huge role behind the scenes for this trip and couldn't have been more excited to see it materialize. 
"This trip marked a wonderful restart of this form of international education for Utica University students and faculty members," Kratochvil said.   
Their flight from JFK took off on Jan. 2, and after landing at Cairo International on Jan. 3, the crew had two weeks to explore all of Egypt before returning for the Spring semester. 
The short journey gave students the opportunity to finally take the chance to study abroad without missing crucial classes or athletic responsibilities. 
Kate Anderson, a student in the graduate OT program, jumped on such a chance. 
"The trip was a perfect opportunity to study abroad short term without jeopardizing my academic agenda," Anderson said. "It inspired me to take the risk and want to travel more."
Students spent the two weeks living in the dorms and attending lectures inside the American University in Cairo, which is just a short drive away from the heart of Old Cairo and the Nile River. 
Students couldn't help but express the allurement around every turn, and the history that came with every step.
Senior nursing and psychology major Sarah Petronella had nothing but admiration for the country.
"Egypt is a beautiful, wondrous, time machine that holds an unimaginable amount of unanswered questions and mysteries dating back to the beginning of mankind," Petronella said.
During their time, all of the major tourist attractions were explored. This included the National Egyptian and mummy museums, a boat ride along The Nile, a trek through the Sahara Desert to examine ancient fossils in situ, and of course, the Pyramids of Giza accompanied with camel rides through Giza. 
Physical Therapy Professor Tom Crist reflected on these experiences with awe. Crist, already a globetrotter, said being right on top of these world wonders was nothing like one could ever imagine. 
"I realized that photographs and videos cannot capture the magnificence of the ancient Egyptian landmarks and the artifacts that we saw in the museums," Crist said. 
However, the parts that students and faculty seemed to enjoy most were all that Egypt had to offer that you don't learn about in textbooks. 
Trips to non-profit organizations, like Risala, aim to touch every person under the Egyptian sun, whether that be with clothes to put on their back, food on their table, education for young and old or seeking to help the blind and the orphaned and their reach never seems to stop. 
On other days, the students explored Sekem, a sustainable farm flourishing in the middle of the Sahara Desert that not only grows herbal medicine, tea, honey, coffee and clothes for cotton, but also started a K-12 school district and opened an urgent care and physiotherapy unit open to anyone who needs. 
"The foundation of Egyptian society is built on intangible values, and economic status does not merely compare to the importance of love, social interaction, sustainability and togetherness," Petronella recalled. 
The Pioneers also visited the largest pediatric oncology hospital in the world. 57357 hospital is a non-profit organization created to embody that of St. Jude's Children's Research Hospital in the United States, and bring it back to the center of Old Cairo. The hospital is the only one of its kind in all of Africa and parts of the Middle East.  
Crist reflected fondly on his time spent at 57357. 
"The most memorable part of the trip for me was when groups of patients and visitors gathered around the Utica students to take their pictures together at the children's cancer hospital," Crist said. "That made all of the planning and the long flights so worthwhile."
Again and again, wherever the students traveled, Egyptians were thrilled to share with them, their culture, their joys and their day to day experiences. 
"Their excitement to share with me their country was beautiful, and I am so grateful for everything I was taught, shown, and given," Petronella said. 
Although only there for a short time, Crist echoed many of the same feelings. 
"All of the people that I met in Cairo were so friendly and helpful that I really felt at home there even though it was my first trip to Egypt," he said.
The University has prepared to expand its faculty-led trips to Ghana and Ecuador as well as back to Egypt in the coming semesters. 
"These courses will offer students in several different degree programs an opportunity to study their disciplines in unique cultural and physical contexts," Kratochvil said. 
For those seeking the traditional, semester-long study abroad experiences, Utica has opportunities opening in a wide variety of countries. 
Some of these include American University in Cairo (Egypt), Jagiellonian University (Poland), Kansai Gaidai University (Japan), Lingnan University (Hong Kong) and University College Dublin, just to name a few. 
Wherever the location, seize the opportunity. Take it from students like Petronella who will never regret her decision to study abroad.  
"I'm eternally grateful for the paths I crossed, the love I received, the knowledge I gained, the Egyptian sunrises and sunsets, and the warming invitations to return," Petronella said. 
With any sort of interest in expanding your horizons, the doors of the International Education office- located at 120 White Hall- are always open, or can be contacted at [email protected]. 
For a full list of locations and other opportunities, visit the website here and find your next adventure.