February is for Fieldwork program offered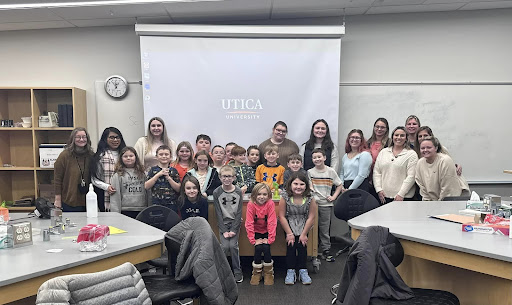 The Educator Preparation Program at Utica University and the Little Falls School District are partnering to offer a new fieldwork program for eligible students. This is the first opportunity for virtual fieldwork on campus, serving as a modern and enhanced approach to fieldwork.
February is for Fieldwork Program Flyer
Traditionally, fieldwork sends future teachers into regional schools where each teacher has a different experience based on their location. Professor Katie Hanifin, Education Preparation Department Coordinator, began the program as an effort to allow future teachers to have more of a collective experience while also responding to the recent increase of remote working and learning.
"I'll try to place people in person most of the time geographically in an area where they can realistically travel to, so this fieldwork and what Professor Hanifin is describing kind of blows the lid off of that constraint," Kyle Riecker, Administrative Assistant of the Educator Preparation program said.
The program is designed to take university students through three modalities. Fieldwork students will:
Design asynchronous instructional materials, learners learn at their own pace
Have synchronous online meetings with learners, online real-time learning
Have face-to-face teaching with learners
The modalities are designed to allow the future educators to get to know their learners before meeting them face-to-face, so when they meet, the educator would know where the learner is in their academic journey and would've already built rapport and relationship with the student.
Fieldwork students will Zoom in and be taken around the stations in the elementary classrooms on a laptop to get to know the environment and students before formulating lessons.
The modern fieldwork program was spearheaded as a collaboration between Hanifin and Dr. Keith Levatino, Superintendent of the Little Falls City School District to benefit both University students and learners from Little Falls CSD.
The journey from learning to become an educator to student teaching "should feel like a slide instead of a big step," Hanifin said, and that's what this program hopes to accomplish.
Hanifin said schools are really stretched right now, so it's becoming a difficult request of schools to allow students in for fieldwork. Instead, she asks, "How can our students help what you need to accomplish?"
How It Works: 
Fieldwork students will design courses and lesson plans, and then implement the asynchronous learning experiences. Some of the fieldwork will be in a virtually tutoring and mentoring capacity.
The culminating experience after the education students have designed the courses and taught virtually is an in-person experience.
The Little Falls CSD students, referred to as Young Pioneers, will have the opportunity to visit Utica University and have a lesson taught by Utica's future educators in person after having built a connection with them previously.
"I'd love Young Pioneers to be something on the books each spring semester," Hanifin said. "If we knew when kids were visiting campus, we'd backtrack the fieldwork from there. So, let's say we have groups visiting at the end of February. We would have our students start some asynchronous online learning first, then meet the students synchronously, then by the time the students show up, they all do a collaborative face-to-face project together."
This creates an authentic learning exchange and builds a bridge from schools to a university. According to Hanifin, it gives the learners a sense of what to look forward to.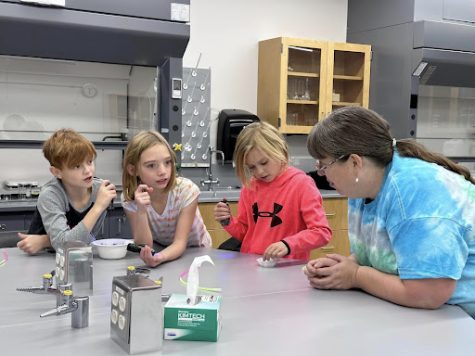 In the past, a group of middle schoolers from the VVS School District took a field trip to Utica University.
"Middle schoolers were so excited to be on a college campus," Hanifin said.
The educator preparation students stood in front of a classroom of learners instead of their peers. Students running learning experiences for the group were nervous, Hanifin says, but afterwards, many of the students said they had fun, saying "I know for certain that I want to be a teacher."
Little Falls students supplement their learning at an Engineering-by-Design lab. Tracy Young, the director of the lab, says learners are encouraged to become thinkers and problem solvers. Students who complete virtual fieldwork Zoom into the EBD lab and are mobile on a cart, so they can experience each station and have multiple perspectives of learning.
"There is a direct connection and symbiosis between our teacher candidate's preparation in elementary science to Mrs. Young's program," Riecker said. "The puzzle fits perfectly. Even when in-person fieldwork is not an option due to distance, Mrs. Young found a way to connect our students with her EBD cohorts…and then the field trips to Utica University cement the bond between the university student and the elementary learner."
Another student field trip is planned for this April.