Jimmie Warren left his mark on the defensive end in his final season
Jimmie Warren was the main player who spearheaded the Pioneer defense during the 2022 season. With him on the other side of the ball, the program made a historic run to the second round of the NCAA tournament in its first appearance. In his final season, Warren left his mark on the program and in division 3 football.
Jimmie Warren had many responsibilities on the defensive end last season and understanding his role was one of them. As the defensive end is preparing to come off the edge pre-snap, that's when the thinking starts. For him, all that stops after the snap, and what happens next is just pure reaction. His prowess on the opposite side of the ball earned him some high honors in division three football and his very own spot in program history. 
At 6-foot-5, 235 pounds, Warren came into the 2022 season with two objectives: To be the first team in program history to make the NCAA tournament and to earn Empire 8 defensive player of the year, both of which he and the team would accomplish. 
"This year we had a great group of seniors that proved to all be great leaders throughout the long season," Warren said. "Football takes all 11 people on each side off the ball to work as one for each play to work well."
With Jamey McClendon as the new defensive coordinator in his first year, the defense was keen on doing whatever it took to make it one he would never forget.
"Coach McClendon had a great scheme each week and each player on the defense did their job to contribute to the team's success this season," Warren said. 
Coach McClendon said that Jimmie is the kind of player who can create blitzes or packages ability due to his leadership on the defense and the entire team. 
 "You're talking about a guy who came in as a WR who was 185 pounds, and developed into a 245-pound Outside Linebacker that helped reinvent our defensive scheme and identity," McClendon said. 
Coach McClendon credited Warren for making his transition to Utica much smoother. The two clicked and were able to build a strong relationship, which helped to form relationships with other defensive players. 
As a play caller Warren's dynamics off the edge, and his ability to count on him in critical situations made forming a game plan around him much easier.
"I could drop him or rush him depending on what the offense was going to do,"  McClendon said. He was also very savvy, and I could put a lot on his plate in terms of making in-game checks and adjustments based on a game plan. He also gave me valuable information on the sideline in between series which I could use to make in-game adjustments that benefited the whole defense."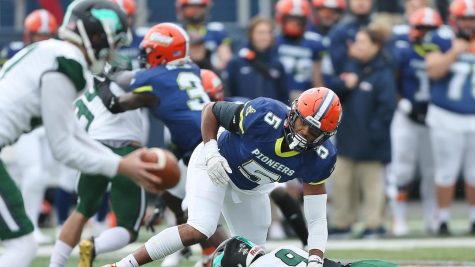 Named Empire 8 Co-Defensive Player of the Year and D3football.com All-Region II Second Team at defensive end, he solidified himself as one of the nation's top small college defensive players, which ultimately made him a semifinalist for the Cliff Harris Award. Also on the defensive side, he earned All-ECAC First Team. His hard work continued to pay off as Warren finished as the Empire 8 leader in sacks for the 2022 season.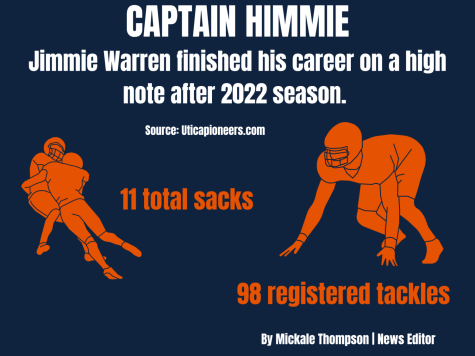 Warren also tied for tackles for loss in E8 with 17.5 and finished fourth in the conference with 98 total tackles. His 11 total sacks in 2022 were third all-time in program history while his tackles for loss finished fourth in single-season program history. However, Warren earned himself the top spot in program history courtesy of the 75 yards the opposition lost on his tackles for loss making it a single-season program record. 
"It [felt] really good to see all the hard work that went into the year paying off," Warren said. "All of these accomplishments come with us winning games, and I know that I could not do that by myself."
Warren recently began graduate school to pursue a master's degree in healthcare administration. He intends to continue to work out and stay active in case the next opportunity to play at the next level comes around. Learning how to overcome obstacles and developing patience and understanding what it's like to be a part of something greater than oneself were all things he learned playing football at Utica. With that experience and knowledge, he had a message for the current and future players of the program. 
"One thing that I would want to leave for present and future players of the program is to buy into the program," he said. "What you put into the program is what you will get out of it. The coaches will put everyone in a position to be successful and trusting them will be very important. The coaches will not only make you a better football player but also a better man in life."