Nate Palmer delivered in his final season and has the accolades to prove it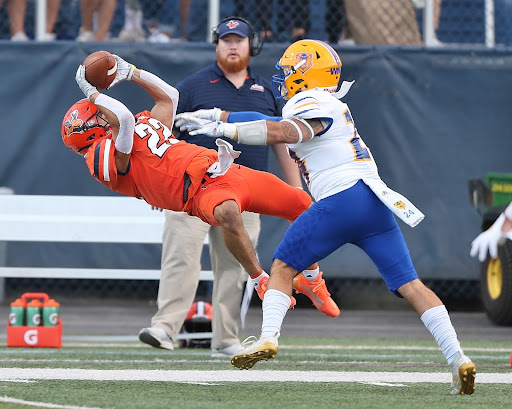 A historic trip to the NCAA tournament for the first time in program history wasn't the only accomplishment graduate student Nate Palmer would achieve this season. Wide receiver Palmer would finish his career in stellar fashion, earning some of the highest honors in division three football.
Nate Palmer finished the 2021 season with just four touchdowns and 628 receiving yards in 11 games. The Pioneers finished 6-5 overall that season and 3-3 in conference play after a 3-0 start. Entering his final season and as team captain, the decision to get Palmer more involved in the offense was a decision he said was made in the off-season by Head Coach Blaise Faggiano. 
"In the off-season Coach Faggiano said we need to get [me] the ball more," Palmer said. "That's where all the numbers come from. The QB and the offensive line did a great job with everything they did. I just did what I had to do and had success."
Despite his 5-foot-7 inch frame Offensive Coordinator Joe Gerbino said Palmer making all the plays he wasn't supposed to make made life easier on the offensive end.
"We could put him in so many different positions because of all the extra work he would put in," Gerbino said. "Not only did Nate know what he was doing he knew what everybody else was doing."
Palmer this year would go on to create a dynamic partnership with the first-year starting Quarterback Braeden Zenelovic whom the Pioneer picked up in the 2022 offseason. As a redshirt quarterback at the University of Albany, Zenelovic only played 20 games for the Great Deans finishing with 111 passing yards in three years.
With Zenelovic as the new QB1, he and Palmer would both have successful seasons. Zenelovic finished with 3,207 passing yards and 31 touchdowns with Palmer on the end of most of those six-point plays. However, the feeling was mutual with Zenelovic letting it fly Palmer's touchdowns and receiving yards increased as the two combined for double digit touchdowns.
"Nate's one of my best friends," Zenelovic said. "He is a gritty and undeniable competitor who's a true testament to heart over height. [We] spent a lot of time together in the spring/summer leading up to the season. He played a key role in me learning the offense as we'd do a ton of fieldwork, which led to our chemistry on the field this season."
Palmer's efforts set a record for the most receiving yards in a single season. He also became the second wide receiver in program history to pass 1,000 yards in a single season and the program's fifth 2,000-yard receiver. His touchdown total was ranked third overall by a single-player player in a season.
The team finished 10-2 overall and 5-1 in conference play with their only conference loss coming against the Cortland Red Dragons. Off the back of the best regular season record, the team clinched their first-ever NCAA tournament berth.
"I just know that in my class we put our stamp on the team and Utica University football," Palmer said. "It was definitely a year you'll never forget no matter what happens. We put a banner up in the stadium and every time you see that you'll reminisce and think wow we actually did that."
Palmer's contributions on the offensive end played a key role in the team's consistency in the regular season and pushed it to the second round of the NCAA tournament. With Coach Gerbino on the sidelines calling the shots and Palmer executing them the two developed a close partnership over the years.
"One of the biggest reasons I'm at Utica was Coach Gerbino [because] his style of offense I felt fitted me the best," Palmer said. [We] were always watching films together, always picking apart what stuff to do and not to do. Us having those conversations made us have a connection on the field."
Palmer finished his career first with 411 punt return yards, second all-time in receiving yards with 2,695 paring that with 26 receiving touchdowns and a total of 30 career touchdowns. He also finished third averaging 16.04 yards per catch, fourth with 3,192 all-purpose yards and 182 points scored, fifth with 168 receptions, and eighth with 3.91 receptions per game. As a result of his decorated state line overall and in 2022, the accolades piled up for one of the Empire 8 and Division three's most standout players.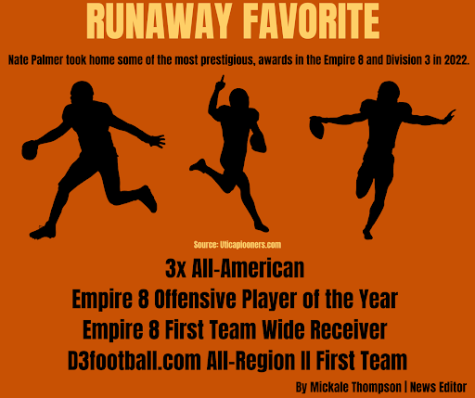 Along with being the program's first three-time All- American to earn honors from the American Football Coaches Association Division III Coaches' All-America First Team honors, Associated Press All-America Second Team honors, and D3football.com All-America Fourth Team honors. Palmers also earned Empire 8 first-team all-purpose player, Empire 8 Second Team as a return specialist, Associated Press second-team All-American, and All- ECAC honors earning the Eastern College Athletic Conference Offensive Player of the Year as well as the first team.
He was also one of 15 semifinalists for the Gagliardi award, a trophy given to the best player in Division III. He also participated in an NFL scouted FCS Bowl held in Daytona Beach, FL in December 2022 alongside other division one and division three.
Palmer graduated with a degree in Criminal Intelligence Analysis and a minor in psychology with hopes of becoming a State Trooper or play professional football. The brotherhood and lessons he experienced at Utica are something Palmer said he will carry over into the real world.
"If you want to keep being great, you need that brotherhood connection to continue to excel," Palmer said.