Public mental health forum hosted at Utica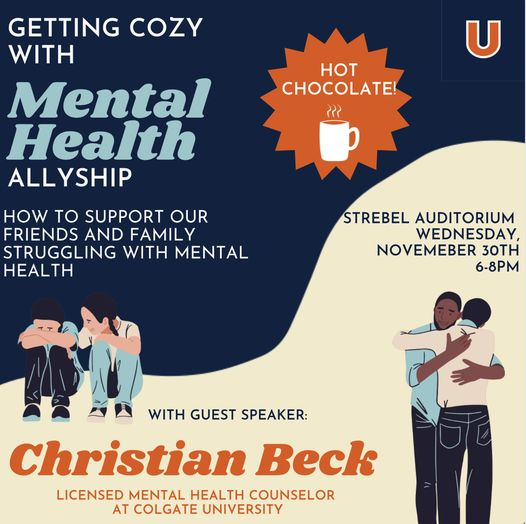 On Wednesday, Nov. 30, the CMM 103 Honors Public Speaking class hosted a public mental health forum. The forum allowed students to ask questions regarding mental health, as well as view a presentation on how people can be better mental health allies to their friends in need. Christian Beck, a licensed mental health counselor at Colgate University, was the speaker.
Beck discussed how he would help students learn to identify warning signs, facilitate conversations, as well as answering general questions regarding the practice and topics discussed.
"We have this fear and worry about what to say and how to say it so it won't hurt anyone, but we also want to know if someone is ok," Beck said.
Beck showed a chart that depicted how mental health issues have affected adults, youth, etc. the chart states that one in every five adults experience mental illness.
"Some warning signs that you need to look out for come in different forms," Beck said. "There's talk, behavior and mood. People may say they're hopeless or feel trapped, this is just one of several examples of warning signs."
According to Beck, situational events can also affect a person's mental health.
"Physical health and wellness can be affected by career ending injuries, people who want to go pro might feel like they don't know who they are if their career in a certain sport is over due to the injury," Beck said.
After addressing warning signs and events, Beck explained the proper ways to facilitate conversations with friends who may need help.
"If someone is expressing themselves or asking a question on what to do, people need to listen to the situation with an intent to understand," Beck said. "Being an effective listener means you need to show respect and create a climate that allows the person to communicate with you honestly."
Beck said that there are numerous steps when it comes to effective listening, those steps can include listening to all cues whether they're verbal or non-verbal, rephrasing words to sound better, taking time to understand the situation, and even seeking feedback to confirm the right understanding.
"Doing these simple steps can allow for people to feel safe and tell others what they are going through, which in turn allows others to effectively listen and respond to the person in need"
At the end of the presentation, a Q&A was held in order to allow students to ask him questions about the topics covered or questions about his profession.
One student asked how people would respond to others who use dark humor to cope with their mental status.
"It's something we actually bring up now in suicide prevention training," Beck said. "We need to learn to stop normalizing things like dark humor and always take it seriously, we need others to understand that while they might not mean it, another person might."
Another student asked how someone could help a person change their coping mechanism.
"First thing most people do is make an observation," Beck said. "What we really need to do after is acknowledge the seriousness of what that person is going through and show them how other coping mechanisms might be better."
The students of the CMM103 Honors Public Speaking class also had quite a bit to say, one expressed just how much work they had to do in order to put this event together
"It took a lot of time, from the start of the class we were practically thrown into the deep end and had to come up with everything. I'm glad to say we succeeded," said Christian Stevens, a physical therapy major.
The students were also happy with the event's attendance as they surpassed their original prediction.
"Our original goal was 30 attendees, however we ended up having 52 attendees in total," said Kyle Mitchell, a criminal justice major. "I believe we had good attendance for a variety of reasons. My classmates and I advertised the event in advance and contacted professors, and asked that they encourage their students to attend. In addition, we advertised this event to the greater Utica community."