Major sunsetting: Utica academic programs under review
Utica University is undergoing an Academic Program Review spurred by a Board of Trustees resolution, which has caused unrest and questions on campus.
The university has individually reviewed majors over the past 76 years, but this review will be the first holistic overhaul of major offerings.
To some faculty, the abruptness of this charge and lack of prior warning has caused uncertainty and concern.
"Walking [into the faculty meeting] in September was a big shock," said Kirstin Walker, associate professor of therapeutic recreation and chair of the therapeutic recreation department. "Finding out that the report had been given with no faculty discussion is not shared governance."
According to Provost Todd Pfannestiel, this is a routine procedure at many other higher education institutions.
"We are 76 years old and we have never done an academic program review," Pfannestiel said. "The president and I absolutely agreed this was time… I would say moving forward, this is something that every university, including Utica, should be doing on a regular basis so it doesn't have the shock value that I'm sure it has right now."
What is the review?
As of the fall 2022 semester, Utica offers 59 majors to incoming students, but a majority of students enroll in only a handful.
According to Pfannestiel, who ran statistics prior to the semester, three majors make up almost half of enrollment: nursing, health sciences and cybersecurity. This discovery inspired a comprehensive review of the entire academic footprint of the institution.
The goal of this is to consider three possible recommendations regarding majors: which ones to add, grow or sunset.
"[We are] essentially asking three questions: what is not in that footprint that we should be offering, so new programs, what are some new ideas that we have resources or we believe we are positioned better than other universities that we can deliver on a new program," Pfannestiel said.
He then continued to explain that some majors offered are not sought out by employers or incoming students.
Additionally, the Board of Trustees' charge cites an unsustainable faculty-to-student ratio as a primary reason for the review. This concept has led to concerns among faculty regarding employment.
"It was crushing honestly finding out that the board that has not expressed much of an interest in how things work has decided there are too many faculty and not enough students and therefore programs are going to be cut," said Daniel Tagliarina, associate professor of political science and chair of the political science department. "It is also worrying because it was not clear what exactly that meant. Am I going to be losing colleagues, am I going to be losing my own job, what does this mean for all of us? It was communicated poorly with no real follow-up."
According to Pfannestiel, if a program is sunset, faculty might shift around course offerings from higher level to lower based on general education or minor needs.
"I don't need a faculty member hearing the phrase 'eliminate' and sunset and thinking like, 'oh, what the hell am I gonna teach?'" Pfannestiel said. "No, no, no, no, no– there is so much that we need to get done here. But will it be a change and will it create some angst? I have no doubt it will, I'd be surprised if it didn't."
Pfannestiel continues to explain that the work done by faculty is important for the future of the university and students.
This perspective contrasts to that of faculty, including Tagliarina.
"If you are just getting rid of degrees, then keeping faculty, the main line of the charge, isn't relevant," Tagliarina said.
Members of the Task Force included the four school deans, four faculty members and four staff representing the logistics of the university, appointed by the provost.
If a program is chosen to be sunset, the current students in the major will be taught out as is required by law, according to Pfannestiel.
"If, in mid-February, an announcement comes out that a particular major is being sunset, the first thing I want students to know is it does not impact them in any way at all," Pfannestiel said. "They will continue to take those courses, they will earn that degree, we will be here to support them 100%. The faculty are here, they will be teaching those courses. [Students] will finish their degrees in which they are enrolled."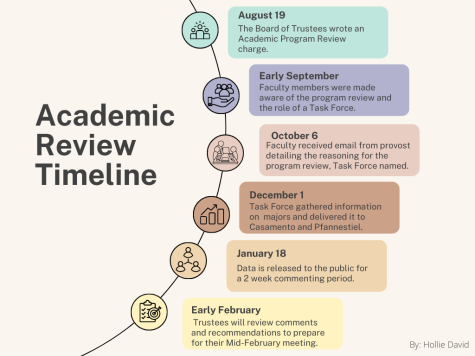 Timeline of the review
A report was delivered to the Board of Trustees regarding the state of majors at the university over the summer.
The Board of Trustees wrote an Academic Program Review charge on August 19, just ten days before the beginning of the fall 2022 semester.
During a virtual Faculty Senate meeting in early September, faculty members were made aware of the program review and the role of a Task Force, but were not given specifics.
"We were told there was going to be this Task Force meant to review programs, and then it was a month later that we were told who are the people on the Task Force were only because the faculty pushed to find out," Tagliarina said.
On Oct. 6, faculty received an email from the provost detailing the reasoning for the program review, which also named the members of the Task Force.
Throughout the fall 2022 semester, the Task Force gathered information on the current majors at Utica and delivered their recommendations to President Laura Casamento and Pfannestiel on Dec. 1.
Details of Task Force recommendations will remain confidential while the president and provost conduct a financial review. Once the recommendations are finalized, they will be released to the public on Wednesday, Jan. 18.
After the release of the recommendations, an open forum commenting period will be available on the school website. During this time, the campus community along with the general public will be able to comment on the recommendations.
According to Pfannestiel, the administrators will collect all the comments for the Board of Trustees, but likely no direct responses will be given by the university.
"At this point, we will not [respond]," Pfannestiel said. "The recommendations and all of the written comments, public comments, will all go to the trustees. They will see every word of it."
The provost then continued to explain that he is unsure if the board will respond, but all the comments will be provided to them.
"And that's why I say we probably will not take the time to sit down and respond to everyone because, at this point, it's in the trustees' hands," Pfannestiel said. "Whether they will respond to some in some fashion I don't know, but I can assure you that in terms of transparency, everyone will see all of the recommendations [and] everyone will have an opportunity to comment if they wish."
These comments will be collected for two weeks until early February, in which the Board of Trustees will review both the recommendations and comments to prepare for their mid-February meeting.
Campus concerns 
A primary concern among faculty regards the lack of transparency about the parameters and findings of the review.
Distinguished Professor of Psychology Steven Specht explained in an email sent to The Tangerine that he believes the process has been very opaque. This sentiment mirrors that of Tagliarina.
"It sort of brings back this idea of the lack of transparency, unless the report gives very detailed reasons on why decisions were made, it is the same lack of transparency when we came into this thing," Tagliarina said. "If it's not in the report, it is not clear how they make any of these decisions."
The term sunsetting has been attributed to this academic program review because it is used by many other colleges and universities, according to Pfannestiel.
Some faculty believe that this terminology is meant to reduce the weight of what the review could mean for their futures.
"Using euphemisms typically only protects the entities in power," Spect said.
A general consensus among students is a lack of knowledge on the topic altogether except for brief mentions by faculty and the Student Government Association.
"I really don't know what that is," said Timothy Barrett, a health studies major. 
Erin Bruttomesso, a senior health studies major, echoed this sentiment by saying, "What the heck is that?"
Despite the unrest on campus, several faculty are committed to making sure students finish their degrees.
"Whatever happens, I am certain that the faculty will make sure the students get to finish what they started, what they came here to do," Walker said. "We don't walk out no matter how hard it is for us. We stay because we really love teaching here, and that is why we push so hard for communication."