Assistant Director of Admissions: Rayna Orsino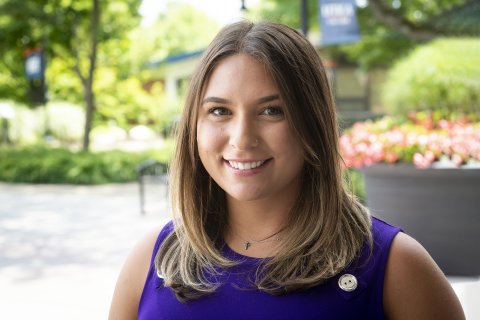 Rayna Orsino is the Assistant Director of Admissions here at Utica University. As an Assistant Director of Admissions, Orsino works closely with prospective students and families as they navigate through the college search/admission process. In this role she helps students to apply and enroll in Utica University. This includes actively recruiting students and reviewing applications.
Originally from Frankfort, Orsino grew up in a small town right next to Utica. She earned a Bachelors of Science in Business Administration with a concentration in marketing and management from the University of Albany SUNY in 2019. She then went on to complete a Masters Degree in Higher Education and CSG in Community College Leadership from SUNY Albany in 2021.
Growing up just 15 minutes away from Utica University, Rayna knew a lot about the school. Many family members and friends she knew also attended Utica. Rayna enjoys the dynamic relationships and supportiveness of the Utica community and especially towards the University. Outside of work she enjoys spending time with family and Remi, her energetic puppy.
"My family actually had season tickets to the Men's Hockey team when I was growing up. I have so many great memories at those games with my family," she said. "After I finished my graduate program, I was looking for jobs and I stumbled across the opening at Utica so I decided to apply. Soon after I applied, I received an offer to come in for an interview and the rest is history."
The role of an Admission Director is vastly important for a few reasons. They help to bring in the incoming classes and act as the face of the University. They are typically the first interaction a family has with Utica  so being welcoming and paying attention to detail is important in making a lasting impression.
According to Orsino, since her senior year of college, she wanted to work in Higher Education because it allows students to gain opportunities to better themselves.
"I love that higher education allows students to gain opportunities to better themselves. There are so many opportunities that higher education provides and I wanted to be a part of that," she said. "I wanted to make a positive impact on a student's experience. I know how important it is to have someone in your corner especially when you are not home and I want to be that person for students at Utica."
Working in the admission offices allows Orisno to connect with students. Being able to see the progress of prospective students from high school to college is an awesome experience for her.
"Also being able to be one of the supervisors for the Ambassador program is one of my absolute proudest accomplishments," she said. "I love getting to know the students and then watching them as they grow and see what opportunities they receive. It truly is a full circle experience. I enjoy both of those aspects so much because even though I am such a small part of their college experience, for some that small interaction means more to them than I could ever imagine. I truly love seeing what great things our students can accomplish."
According to Orsino, working at Utica University has been a great experience thus far for her as she has been working in this position for over a year. Coming to work everyday and finding a place that feels like a family and is supportive and encouraging was important.
"The Admissions Office does a great job of fostering growth and development at Utica University." Orsino said. "When we are on the road we are sharing Utica's missions and values to prospective students. Additionally, the Admissions staff participates in professional development and workshops year round. We as individuals are constantly learning how we can better serve our students and institution. We are very intentional in our processes."
The admission office is important for students, faculty, and staff at Utica University because of the first line of interaction it has with students.
"My favorite thing to ask Ambassadors and students in general is why did you choose Utica? The most common response I hear is how memorable the tour was for them," she said. "That first visit leaves a lasting impression and for so many it is the deciding factor on whether they want to attend. Students are a vital component that makes up a university and the Admissions Office is needed to help connect students to the University."
Orisno wants the Utica community both inside and outside to know that she is passionate about the work she does at the institution.
"I hope to connect with even more students and make a lasting impact on the University. I also am so excited to see what amazing things we are going to do with our Ambassador Program," she said. "We have already made some changes and we have some great ideas in the works so I am excited to see what is to come."