Louis Stokes Alliance for Minority Participation (LSAMP) comes to Utica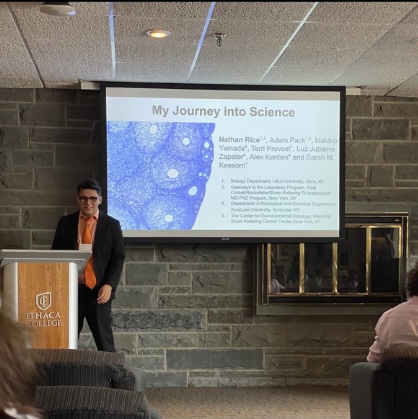 Utica University is one of seven schools currently part of the Central New York Louis Stokes Alliance for Minority Participation program, otherwise known as CNYLA, which is a coalition that aims to increase diversity in Science, Technology, Engineering, and Mathematics (STEM) fields.
What is LSAMP?
The Louis Stokes Alliance for Minority Participation (LSAMP) is funded by the National Science Foundation (NSF) and was named in honor of former congressman Louis Stokes, who advocated for civil rights and became the first Black congressman elected in the state of Ohio.
The LSAMP section is housed under Diversity, Equity, and Inclusion & Student Transitions. The faculty coordinators are Professor of Biology Sara Scanga, Professor of Biology Jessica Thomas and Associate Professor of Chemistry Alyssa Thomas.
According to the LSAMP page of the Utica website, the goal of LSAMP is to assist universities and colleges in diversifying the STEM workforce by increasing the number of degrees, both baccalaureate and graduate, awarded to historically underrepresented populations, which include African Americans, Hispanic Americans, American Indians, Alaska Natives, Native Hawaiians, and Native Pacific Islanders.
Students are eligible for LSAMP if they are a U.S. citizen or Permanent Resident, part of an underrepresented minority as described by LSAMP guidelines and are pursuing a bachelor's degree in one of the following majors: biology, chemistry, computer science, cybersecurity, math, physics and more.
"The LSAMP Scholars program aims to lessen the financial barrier to conducting research during undergraduate education, helping increase persistence to graduation for our underrepresented students and better prepare them for the demands of the STEM field," said Kira Maddox, communications and community engagement coordinator in the Division of Diversity, Equity, and Inclusion & Student Transitions.
Anthony Baird, the vice president for Diversity, Equity, and Inclusion & Student Transitions, said that Utica is showing a commitment to fostering the same goal as the NSF by introducing incoming eligible students to the program and reaching out to returning students regarding the program as well.
"Students are passively aware of the importance of the diversification of the STEM field," Baird said. "We are in our early stages of coordinating our efforts on campus to ensure more students are aware of this opportunity. We are committed to creating a program and a community that supports any of the students who fit the criteria for the LSAMP program—one that ensures they are encouraged and engaged in efforts so that they can thrive successfully in the STEM workforce."
What does LSAMP offer to students?
As a member of the LSAMP program, students are eligible to receive a $4,000 research stipend, faculty mentorship and additional networking opportunities through the alliance.
"Networking is one of the greatest keys to success in the professional world," said Kailea Murray, the director of the Jeremy C. Thurston '00 Center for Career Readiness. "Having a professional network allows you access to informational interviewing, job shadowing, and can even lead to internship and career opportunities. It is critical to understand the industry and/or field that you will be entering, and leveraging your network allows you to ask questions to gain a sense of familiarity or an insider's view."
According to the faculty advisors, having an initiative that supports independent research projects is integral to the success of students.
"There is research that indicates that students from underrepresented groups in the sciences tend to stay in their major and graduate when they have gotten involved in research early on," Scanga said.
Having a faculty mentor and access to research labs can help students practice their skills.
"[Independent research] can help to learn and reinforce knowledge, critical thinking and analytical skills that students work towards in their curriculum," Jessica Thomas said.
One of the first students brought into the program was Nathan Rice, a junior biology major with a minor in healthcare ethics, who has attended conferences as part of LSAMP. The most recent was the 2022 Central NY LSAMP Symposium at Ithaca College on Sept. 17.
At Utica, Rice has been working on a project with professors Adam Pack, Terri Provost and Sarah Keesom regarding the ovarian follicle development of mice and how social isolation can cause an impact.
Over the summer, Rice attended the Weill Cornell/Rockefeller/Sloan-Kettering Gateways to The Laboratory Summer Program where he was able to participate in research at the Memorial Sloan Kettering Cancer Center.
While attending the symposium, Rice presented his most recent findings about both research projects and was able to meet students and administrators from different schools.
"It has been an incredible experience to do student research and to be part of LSAMP," Rice said. "I encourage students who want to do the same and build lasting connections to go for it."
What should students do if they're interested?
If a student wants to learn more about the program, they can reach out to the faculty advisors: Sara Scanga ([email protected]), Alyssa Thomas ([email protected]) or Jessica Thomas ([email protected]). Further questions can be directed to the Division of Diversity, Equity, and Inclusion.