Model UN is looking to recruit new members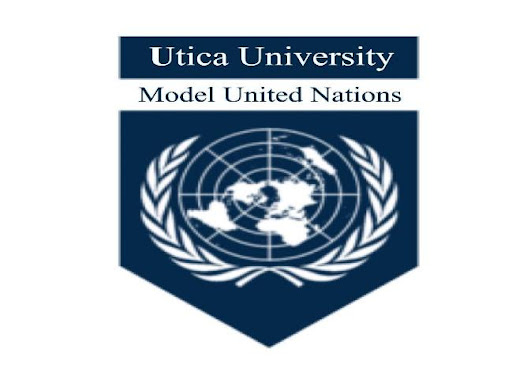 Utica University's Model United Nations club is recruiting for the 2022-23 academic year.
Model UN offers an educational experience for students and helps build the basic skills of diplomacy, speech writing and research skills. These skills help students better understand the world they live in and the context for events that occur across the globe.
"We want people of any political affiliations or identities to come and participate in hopes of fostering a culture of greater interconnectedness between one another and internationalism in the community of Utica University," said Kyle Mitchell, the club's president and a sophomore criminal justice major.
The club used to be very active but deactivated at the start of the COVID-19 pandemic. It was until last semester when a student by the name of Josh Benson decided to revive the club. He conducted research for those who would be interested and recruited Mitchell and Kathi Jabe to help him run the organization. After successful recruitment, the club was deemed active again on campus.
"Last semester members of the club went on a trip to the United Nations Headquarters in New York City to tour the headquarters," Mitchell said.
According to Mitchell, the club has reached a total of 15 members and aims to grow even further. Club meetings are every Wednesday from 1 p.m. to 2:30 p.m. The first few meetings will be used for team building and bonding activities before transitioning into teaching students how to properly debate and prepare for a Model UN conference in February.
"I have total confidence that we have enough time to prepare as we have been actively and successfully recruiting more students and growing our numbers," Mitchell said. "I think we can all work together to properly learn what we need to know quickly and efficiently."
According to Mitchell, the conference in February will be taking place at Harvard University and more details regarding it are still to come.
"At the end of the day it's all in good fun," Mitchell said. "We just want students to be able have an enjoyable experience while also learning mechanics in terms of speech and debate."
For more information, students can contact Kyle Mitchell for more information at his email: [email protected].