Uticans take to the streets, to protect Roe v. Wade
In response to the leaked Supreme Court documents revealing the potential reversal of Roe v. Wade, various local groups have held pro-choice rallies in the city of Utica in recent weeks.
On Wednesday, May 11 a protest was held outside of the Oneida County Office Building where citizens got together and played music while displaying signs on the side of the road. 
These events are leading up to the "Bans Off Our Bodies" rally which will be held on Saturday, May 14 from noon – 2 p.m. and will start at the Utica YMCA, according to the Indivisible Mohawk Valley Facebook page.
The rally, which has been planned by the Indivisible Mohawk Valley, Citizen Action of New York and Planned Parenthood, is meant to help Uticans join a national day of action along with several other protests happening across the country.
Oneida County Legislator Caroline Gable Reale briefly attended the event on Wednesday.
"As a mother, as a daughter, as a sister it is just terrifying to me to look at the political climate that we are in and to think that it is possible that some of these freedoms we have today could be taken away," Reale said.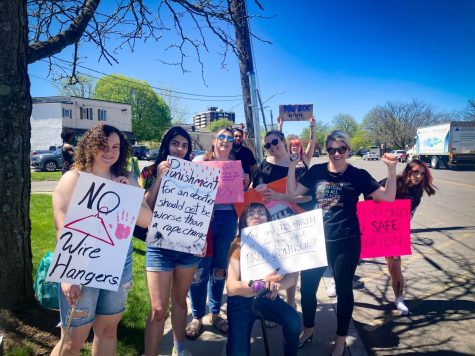 When asked what the best way for citizens to become more active in the community was, Reale explained that there are several things students and citizens can do besides attending rallies. 
"Calling your representatives and letting them know how you feel is a good way to make a change," Reale said. "It could also be something as simple as a conversation with a neighbor that may be uncomfortable but can result in educating others about what is at stake in this moment."
Nicole Roman traveled from out of town to attend the protest and was glad to see people coming out in support. 
"Seeing all of the young people at the protest feels like we are starting to move back in the right direction," Roman said. "It means that there is still hope for us yet."
More information on upcoming rallies can be found on the Indivisible Mohawk Valley website.