Professor Jim Scannell Passes Away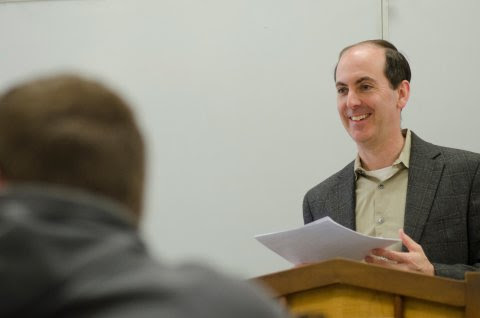 Utica University continues to mourn the loss of Associate Professor of English Jim Scannell, who passed away on May 13 at age 56 after suffering complications of a stroke.
A funeral Mass will be held on Tuesday, May 24 at 11 a.m. at Our Lady of the Rosary Church in Worcester, MA. There are no calling hours.
Scannell taught English literature classes at Utica for over twenty years. His areas of interest included British nineteenth and twentieth century literature, aesthetics and aesthetic theory.
Scannell graduated with a Ph.D. from the State University of New York at Stony Brook and published on the aesthetics of imperialism, including his 1996 piece entitled "The Method is Unsound: The Aesthetic Dissonance of Colonial Justification in Kipling, Conrad, and Greene".
"With his boundless humor, intelligence, and humanity, he was truly one of our guiding lights," President Laura Casamento said in the email. "His loss is a tremendous shock to the entire Utica community, and our thoughts are with his loved ones at this very difficult time."
This story will be updated as more information becomes available.