Utica University names 2022 valedictorians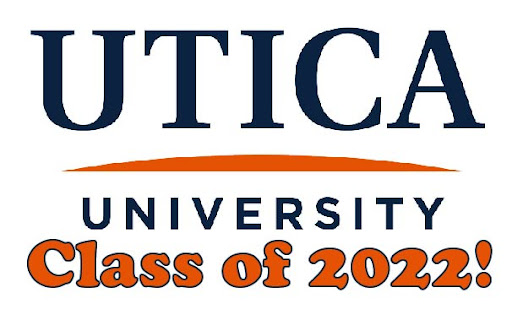 Utica University has recently named the valedictorians for the May 2022 undergraduate commencement ceremony, which will take place on Thursday, May 12 at 5 p.m at the Adirondack Bank Center at the Utica Memorial Auditorium.
The Class of 2022's valedictorians are Carissa Jade Andrews and Anna N. Jordan. This year, there will not be a salutatorian for the Class of 2022 because both Andrews and Jordan maintained a perfect 4.0 GPA throughout their academic careers at Utica University. 
Andrews will graduate this spring with a bachelor's degree in Psychology Child Life. She is a Mohawk Valley native, as she is from Rome and graduated from Notre Dame Jr/Sr High School. After graduation, Andrews will pursue a master's degree in Special Education at Utica University.
"I'd like to extend a huge congratulations to Anna for all of her hard work and accomplishments," Andrews said. "I am very grateful to share this opportunity with her. This is truly such a blessing and I am very humbled by this honor because I know it is only by the grace of our Creator, YHWH, that I am even writing this. So many students here have worked so hard and their achievements should not be overlooked. Being valedictorian actually has little to do with me, but much to do with the whole campus community and beyond, and everything to do with YHWH. This title means that an example is set for others, and to be able to have this opportunity is so much more than I could ever ask for."
Jordan will graduate with a bachelor's degree in Health Studies. She is from Candor, New York, where she was homeschooled prior to attending Utica University. Jordan has already transitioned into the master's program in Occupational Therapy at Utica, where she will continue her advanced coursework in the coming year with the goal of graduating in May 2023.
"I am so excited and honored to be one of the valedictorians of the Class of 2022, and I want to congratulate Carissa Andrews on her accomplishment as well," Jordan said. "When I first received the email from the Provost's office with the news, I immediately called my mom, because this achievement belongs to her as much as it belongs to me."
As a first generation college student who was homeschooled by a single mother, Jordan said her achievements were made possible by her mother's sacrifices. 
"I'm proud of myself, but I'm even prouder to be her daughter," she said. "This accomplishment means so much to me because of how hard my mom has worked to help me get here."
The background information about the valedictorians for the Class of 2022 was taken from a letter Utica University Provost and Vice President for Academic Affairs Todd Pfannestiel sent to Utica University President Laura Casamento.