Chilling with 'The Trainor:' Q&A with women's lacrosse senior captain Kelsey Trainor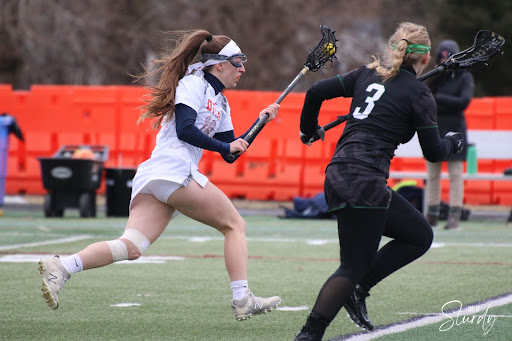 Q: Why did you start playing lacrosse?
A: I honestly picked it up freshman year because I didn't play a spring sport so out of softball and lacrosse, lacrosse seemed more interesting to me.
Q: What has lacrosse taught you about yourself and life?
A: Working hard will get you way farther than relying on raw talent. 
Q: What is your best/favorite moment either on the field or just being around your teammates? 
A: My favorite moment was my freshman year when we beat Stevens. Apparently this was a team we typically lost to so it was really exciting to dominate the game.
Q: What will you miss most about lacrosse when you're done?
A: I will miss being an athlete and having built in best friends as my teammates. I will also miss the commitment and having to show up to something everyday that I love.
Q: With being a big part of the defense and someone people count on and working through a tough grad program, how do you manage to keep up with both?
A: Honestly it is really difficult being able to handle both and I do believe that has been my biggest struggle this season. It's hard when all your teammates are practicing hard and you are in class all day, but when I'm there I put all the effort in to try to make up for it. 
Q: Any message or tips if you can go back and talk with your younger self?
A: Don't let the little mistakes ruin all the other things you can accomplish. There is nothing you can't recover from. 
Q: What is the limit for this team?
A: I think the limit for this team is that when we get tired, we tend to stop talking and whenever the talk stops, it usually affects our play.