EIC Eats No.7: Arby's $15 Family Pack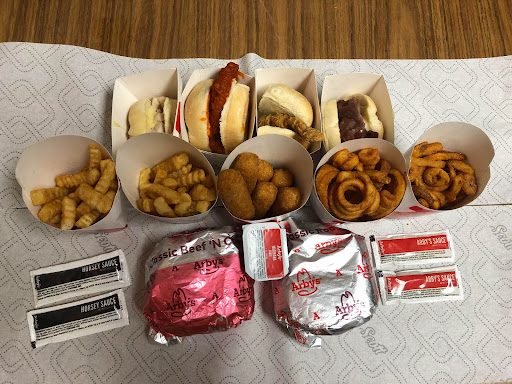 For the seventh and final Tangerine EIC Eats, I decided to do something I have been wanting to do for a very long time. This challenge involved eating the $15 family pack from the place where I work … Arby's. 
The $15 Arby's Family Pack consisted of one Classic Roast Beef, one Classic Beef 'N Cheddar, two small crinkle fries, two small curly fries, a choice of any four sliders (I chose roast beef, turkey, chicken and buffalo chicken) and a six-piece mozzarella sticks. This was honestly far more difficult than I imagined, but I am glad to be done with it and here's how it went:
Classic Roast Beef & Beef 'N Cheddar
The biggest part of this challenge (quite literally) was consuming the bigger roast beef sandwiches. I have always loved Arby's roast beef ever since I was a child and adding Arby's and Horsey Sauce to both sandwiches is always a great addition. I also added curly and crinkle fries, along with a mozzarella stick to both sandwiches to really make it special.
I will admit that eating the bread from these two sandwiches was difficult and filling, but I managed to get it done without having it come back up. Both sandwiches were delicious, and to this day, I couldn't tell you which one I enjoy more.
Sliders
Eating the four sliders was probably the second most enjoyable thing about this challenge. I decided to eat a roast beef, turkey, chicken and buffalo chicken slider, and I would do it all over again. Besides the buffalo slider, the other three have a nice slice of American cheese that really added to the overall flavor. Instead of American cheese on the buffalo slider, this slider has parmesan peppercorn ranch and buffalo sauce, which slaps harder than Will Smith at the Oscars.
I ultimately used these miniature sandwiches that come on dinner rolls as flavor fillers. What I mean by that is when you eat a lot of the same food, the taste becomes very bland rather quickly, so taking a bite out of something that is a different flavor can help you finish the challenge strong.
Curly & Crinkle Fries
The curly and crinkle fries from Arby's are absolutely delicious… when you're not trying to eat four small fries total. Although I believe Arby's fries, both curly and crinkle, are severely underrated, this presented the most difficult challenge for me.
In order to consume all the fries, I had to put them on the sandwiches. This is a very common thing to do in the food challenge world, and I have used this technique multiple times. The fries are simply too filling and always present a challenge, even when they're as great as Arby's fries.
I probably should have purchased some sides of cheddar sauce, because Arby's fries with cheddar sauce are phenomenal.
Mozzarella Sticks
Eating Arby's mozzarella sticks was the highlight of my day, and it was most definitely the best part of this challenge. There is no doubt in my mind that the mozzarella sticks from Arby's are one of the best fast food items in existence and I was honestly sad that I only got to eat six during this challenge. 
The crispiness of the breading with the stringy mozzarella cheese on the inside warms my heart and elevates my blood pressure. Every bite is a crunchy delight, and I highly recommend trying them. There's a rumor that they're going to be 2 for $6 very soon, so I suggest you spend a little over $6 and enjoy yourself some mozzarella sticks.
However, if you are going to eat any more than six, please consult your doctor about your sodium intake because holy moly.
Overall Nutrition Intake
Just like all six of my previous food challenges, this one was also quite unhealthy, and in fact, this one was the second worst. Here are the statistics from EIC Eats No.7:
Calories: 4,020
Total fat (g): 190
Carbohydrates (g): 437
Protein (g): 145
Saturated fat (g): 46.5
Dietary fiber (g): 21
Total sugars (g): 24
Sodium (mg): 10,030 (WOW)
EIC Eats was a biweekly part of The Tangerine for the past semester, where Editor-in-Chief Matthew Breault did some sort of food challenge alone. Thank you all for allowing me to share my food habits with you and you will hear/read from me soon. If you have any recommendations, please feel free to let me know. Thank you all for this enjoyable experience.