EIC Eats No.6: Best Fast Food Fish Sandwich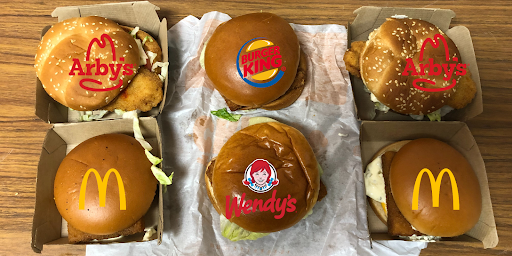 For the sixth edition of EIC Eats, I decided to go right back to fast food for my next challenge. This challenge involved deciding which local fast food restaurant has the best fish sandwich.
I feel like trying fast food fish sandwiches is less common than doing fast food chicken sandwiches, so I decided to make my way around Rome, Whitesboro and Yorkville to pick up the six sandwiches I would consume later on in the day. Here is my review:
Worst: Burger King
The worst fish sandwich I had during this challenge was Burger King's Big Fish sandwich. This sandwich was honestly abysmal, and I really did not enjoy one second of eating and chewing it. This "100% White Alaskan Pollock, breaded with crispy panko breading and topped with sweet tartar sauce, tangy pickles, all on top of a toasted brioche-style bun" was simply not good.
I have had this sandwich before, and I will admit there's never been a time where it impressed me. The sandwich was quite dry and far too crispy to the point where the pickles couldn't even save it. I don't know if I should blame the specific restaurant, or if I should blame Burger King. 
Unfortunately for me, this was the first sandwich I ate, and it made eating the other five both more difficult, yet more enjoyable. The only time I would recommend this sandwich is if they're free or very cheap.
Meh: Wendy's
After eating the Wendy's Crispy Panko Fish sandwich, I will admit I was neither impressed, nor disappointed. This sandwich was far better than Burger King's, but that doesn't say much. The "wild caught Alaskan Pollock filet, crunchy panko breading, topped with creamy dill tartar sauce, pickles, lettuce, and American cheese" was a meh sandwich.
Like Burger King's, this sandwich was incredibly crispy, but the really only enjoyable part was the pickles. The dill tartar sauce harmed this sandwich far more than it helped it, which is a strong reason why this sandwich gets a meh rating from me.
To continue the bad luck streak, this sandwich was actually the second one I chose to eat. The bad news was because I had eaten the worst sandwiches first, my stomach felt uneasy. The best part of this though was I really did save the best for last.
Best: Arby's/McDonald's
Through my past experiences eating these fish sandwiches, I knew that they were going to be the best of the bunch. I ordered two Filet-O-Fish® sandwiches, and one of both Arby's Crispy Fish and Spicy Fish sandwiches, because I knew it was going to be difficult to decide which one was better. I ultimately decided it was a draw, and I'll explain why.
The reason why this was a draw between Arby's and McDonald's is because both sandwiches had overwhelming strengths which made it difficult to pick just one. Both of the Arby's Fish sandwiches were incredibly juicy and huge. The "Crispy fish filet, tartar sauce and shredded lettuce on a toasted sesame seed bun" gave me the best overall taste for the fish. However, I wouldn't say it was the best overall sandwich.
As much as I internally bash McDonald's for having such a small cubed fish, the Filet-O-Fish® was the best overall sandwich. The fish, topped with "melty American cheese and creamy McDonald's tartar sauce, all served on a soft, steamed bun" was a delightful ending to a fun challenge.
The streamed bread and tartar sauce from the McDonald's Filet-O-Fish® is something that I can enjoy every single day, without taking a break from it. Although Arby's has incredibly tasty tartar sauce, it was no match for the tartar from McDonald's.
Ideal Sandwich
If you had to ask me to make the perfect fast food sandwich from the four restaurants, it would look a little like this:
Bread: McDonald's
Pickles: Wendy's
Tartar: McDonald's
Lettuce: Arby's
Fish: Arby's
Maybe one day I will decide to combine all of the items and see if that would truly be the best fast food fish sandwich.
Overall Nutrition Intake
Due to consuming six fast food fish sandwiches, which ties EIC Eats No. 2 for the most amount of sandwiches I have eaten during one challenge (six), the nutrition information isn't the prettiest sight to see. Here are the statistics from EIC Eats No. 6:
Calories: 2,618
Total fat (g): 120
Carbohydrates (g): 278
Protein (g): 101
Saturated fat (g): 24
Dietary fiber (g): 13
Calcium (mg): 171
Total sugars (g): 40
Iron (mg): 60
Cholesterol (mg): 267
Potassium (mg): 2,133
Sodium (mg): 5,228
EIC Eats will be a biweekly part of The Tangerine, where Editor-in-Chief Matthew Breault will do some sort of food challenge either alone or with fellow staff members. Thank you all for allowing me to share my food habits with you and you will hear/read from me soon. If you have any recommendations, please feel free to let me know.