Dr. Robert Halliday to step down from administrative roles, effective May 15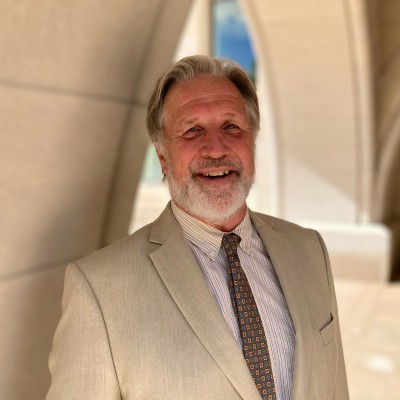 After being in administrative roles for the past 19 years, Senior Associate Provost and Dean Of Graduate Studies Dr. Robert Halliday has decided to step down and focus on his faculty duties.
Halliday, who has been at Utica University since 1991, has served in a number of administrative roles, including chair at various times of the philosophy, history, psychology and health studies departments at Utica University.
His decision to step down from his two administrative positions was shared by Utica University Provost Todd Pfannestiel in a staff email on Tuesday, March 22.
Although Halliday is stepping down from two administrative roles at Utica University, it doesn't mean he will be absent from the campus. According to Halliday, this decision will allow him to enjoy what he loves to do, because for the past 19 years, he spent his time problem solving full-time.
"I found the job as satisfying as teaching, it just stretched different muscles and it is also a very draining job," Halliday said. "Having done it for nearly two decades, it felt like time to get back into the classroom and into the faculty where I can do different things. While I continued to teach regularly during my time in administration, there were things I could not do, but that I can as a faculty member. So, I am looking forward to creating new classes and programs, particularly for the new general education program, and to spending more time with students."
When Halliday arrived at Utica University in 1991, things were much different than they are today. Then, the school was Utica College of Syracuse University, a small branch campus without its own president, Board of Trustees or HR department. Each curriculum, hiring and tenure decision were made by Syracuse University and there were no graduate programs, no online education and a limited roster of sports.
Reflecting on how far the school has come since he originally was hired as an assistant professor of philosophy, Halliday noted the multiple changes that were made during his tenure as both faculty and a part of administration.
Some of the biggest changes that were made include Utica College receiving its independent charter, while achieving financial and legal independence from SU in 1995, Utica announcing its final transition to full independence in the fall of 2008 and Utica College becoming Utica University in February of 2022.
Another change Halliday was fascinated by was how far technology has come since he began teaching at Utica. When Halliday started his first administrative role, students would have to take a piece of paper to their adviser and work out what classes were best for the next semester, and  when submitting grades, faculty would have to fill out a form and hand carry it to the registrar's office. Now, technology has made it much more simple.
"Probably the biggest single change I have seen in the years is the inclusion of technology into every aspect of our operations," Halliday said. "Now, students can get online to register and a faculty member can submit final grades from home late on a Saturday night when the grading is done. Technology has made every process from admissions to graduation smoother and more efficient."
One thing Halliday will miss about his administrative roles is the problem solving aspect, something he has done continuously and has been accustomed to doing for more than 19 years.
"I love being able to take something that is not working well, work out why, cooperate with the necessary people and end up with a solution that makes life easier for everyone," Halliday said. "It is often an invisible role because no one notices when things work well, but it is immensely satisfying. I hope that, in so far as processes run smoothly, I am leaving for my successor a more efficient and smoother academic affairs operation than I stepped into."
As Halliday will continue to be a professor of philosophy at Utica University, his legacy and impact on administration will always be remembered. Pfannestiel, who has served as Utica University's Provost and Senior Vice President for Academic Affairs since June 2018, took a moment to thank Halliday for his contributions to Utica University.
"I wish to thank Robert for all of his support to the university in a variety of administrative capacities over the past nineteen years," Pfannestiel said. "His commitment to our students' success remained strong throughout his service in Academic Affairs, and will no doubt continue as he resumes his faculty duties."
The interim Associate Provost position has yet to be announced, and the process is currently ongoing. The announcement of the position will come when the time is right, according to Halliday.