Profile: Women's Resource Center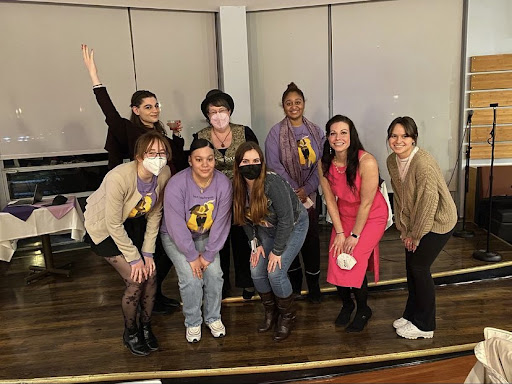 Nestled in the residential quad of Utica University's campus is the Francis A. Wilcox Intercultural Center, otherwise known as the home to the Women's Resource Center.
The K. Della Ferguson Women's Resource Center was established in 1990 by a group of students along with K. Della Ferguson and Alane Varga to offer services in support of sexual and reproductive rights and resources for women with children on campus. 
The organization evolved to become a women's activist organization where they supported student activist groups by attending and planning protests. 
The WRC recently attended a march for reproductive rights, just as they did during the fall of 2021, and received criticism from the administration for having an activist stance as a part-office, part-organization on campus. As a result, several off-shoot organizations such as Women In a New Direction (WIND) sprouted from the WRC.
According to programming intern and animal behavior major Kat Hawley, the WRC has been through many iterations of focus and ideologies throughout the waves of feminism.
"Every time there is a new generation of people, our focus shifts to what is important to the students at that time," Hawley said. "We have always provided menstrual products, free sexual health products and resources connected with domestic violence and sexual assault awareness. I think that is one of the core issues the WRC has consistently addressed."
The original focus of the WRC was in support of women with children on campus, they have also highlighted issues such as breast cancer awareness and labor rights for women. The main focus of WRC currently is centered around gender equity in the community. They also strive to become an important peer resource on campus, where a student in crisis would feel comfortable going, according to Hawley.
While campus events over the past few semesters have been virtually non-existent or seen slim attendance due to COVID-19, attendance this semester has increased and WRC has seen a  steady flow of students with an upward of 45 at the most recent event, a Women's Empowerment Cabaret.
Coming up for the organization, there are several events in the works. The week of April 11 is known as sex-positive week and WRC will host a variety of events throughout this week including informational lectures, sexual education from around the world and a game/activity night. 
"We are planning on doing an event called Condom Casino where you come in play games, learn facts about safe sex and sex education and then at the end of the night you can trade out however many condoms you have for prizes," Hawley said. "We just try to educate the campus in a fun way that will get them in the room to hear those conversations, it's a sexual empowerment time and we get to learn some things."
Students should also look for sex-ed Bootcamp which may be coming back to campus in the fall, along with an open house hosted by the WRC. 
WRC is always open to new members and is considered a non-hierarchical organization. The various positions of WRC are administration intern, programming intern, programming assistant and regular volunteers. Different tasks and responsibilities are delegated to each member and all members work together for the better of the whole.
"Whenever anyone wants to step up to do something, we help encourage them and then the staff who has been here the longest will help train people to develop the skills that they need to effectively event plan and provide resources to the campus," Hawley said. 
The organization hosts weekly meetings on Wednesdays at 1:30 p.m. in the Wilcox Center and all are welcome. 
"We hope to continue to make that place a second home like Hubbard basement was for me and for any new student coming into the center as a volunteer who needs help or whose paid staff," said Jaydy Hernandez, the administrative intern for the center. "I'm looking forward to seeing what that looks like for the future."
The WRC promotes a welcoming atmosphere to all members and volunteers. The organization strives to function as an inclusive community for the university's campus. 
"We are an organization that values every individual human that is doing this work because everybody's experiences are different and so coming together as the family, or sometimes we call it the sisterhood, is a really powerful way to be grounded while reaching out and doing the work that we do," Hawley said. 
On Sunday, March 27, the WRC held their annual Women's Herstory Month Luncheon. The theme this year, according to the National Women's History Alliance, was: Providing Healing and Promoting Hope.
Local pediatrician Dr. Emerita Pizarro, who was introduced to the WRC through her speech during the women's march for reproductive rights held in October, was invited as a guest speaker to the luncheon.
"Whatever field you are in and whatever endeavor you launch yourself into, think of all the other women and girls you can inspire," Pizarro said. "When you ask how to correctly pronounce a woman's name. When you acknowledge when you see someone struggle. When your eyes tell someone that you can see their pain–you have become a healer. You never really know who you are going to give healing or hope to."
For more information on upcoming events or how to become a member of WRC, students can reach out to Kat Hawley and Jaydy Hernandez by email or find them on the organization's PioHub page.