Utica University students to host pop-up sneaker and clothing event at Canastota venue this Saturday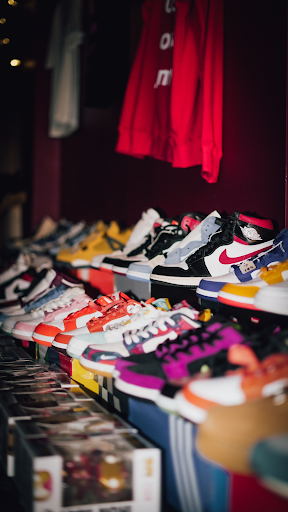 Three Utica University students will host a sneaker pop-up shop on Saturday, March 26. The event will offer a variety of apparel items, including more than 100 sneaker styles, streetwear, vintage clothing, hats and more. 
The event will take place from 11 a.m. – 6 p.m. at 206 South Peterboro St. in Canastota and will offer a variety of sizes, styles and brands. 
The three students who organized the pop-up shop are senior Connor Mirasola, freshman Kim Tran and sophomore Jake Sherline. This marks the second time they will host the event, as they had a successful outcome earlier this year at their first show.
Shoppers can expect to see new and used items that include mens, womens and kids sizes. Entry is free of charge, and is open to anyone looking to shop or browse. An official name for the pop-up shop is still being determined by the students and will be announced in the near future. 
Sneaker shows and events such as these are usually held in metropolitan areas, so the organizers hope students and local residents will take advantage of buying items that they wouldn't usually find in area stores. The group also hopes this event will bring people together who share common interests. 
"The event isn't just about selling clothes and sneakers, but bringing friends and the community together," Tran said. "Seeing everyone showing support and love is the best part."
The three students were all inspired to create this shop because each wanted to cultivate a business around something they were interested in.
Mirasola recalled being in high school and attending similar sneaker events.
"I saw all of the cool experiences that come with it and wanted to explore it myself," Mirasola said. "I've been going to and selling at sneaker shows for a few years now and I have always wanted to host one of my own."
Sherline, who is also on the men's soccer team, like Mirasola, was also inspired by various sneaker events he attended in the past. 
"I've been into and collecting sneakers since I was in middle school and now it's almost turned into a business," Sherline said.
As for Tran, it was seeing other people around her buying and selling clothes and using that as inspiration to start doing it herself.
"I always loved fashion and I hope to own my own business or something similar," Tran said. "I hope to open a store, have space for people to just come in and be comfortable and have fun."
Looking to the future, the students are looking to expand their business and will plan another pop-up shop opportunity, with a goal date near the Boxing Hall of Fame induction ceremony in June, since that is held in Canastota as well. 
They hope to inspire other young people and vendors who might want to collaborate with them. 
"We even hope one day to start having people sell their own stuff, like their own personal brands, at the show as well," Sherline said.