Ukrainians at Utica University reflect on war and devastation
Vasyl Yurkuts is an international student from Ukraine studying English at Utica University. He was roughly 4,700 miles away from his home country when he learned Ukraine was being invaded by Russian forces.
On Feb. 24, the lives of Ukrainians were uprooted as the Russian invasion of Ukraine began. As the world watched the humanitarian crisis unfold, countless countries began to show their support for Ukraine, while condemning Russian President Vladimir Putin.
The support for Ukraine during this time can be seen not only all across the world, but right in Utica as well. Buildings in downtown Utica have been lighting up blue and yellow, representing the colors of the Ukrainian flag. 
Just one day after the initial Russian invasion, Utica Mayor Robert Palmieri directed the Ukrainian flag to fly at Utica City Hall at three-quarter staff, in order to "show solidarity and support for Ukraine, its government and its citizens." 
While Yurkuts is away from his home country, he has been doing everything he can to support Ukraine during this difficult time.
"I'm concerned because this is my country, those are my friends, my family and I want to support them," Yurkuts said. "I'm trying to do everything I can do here, spreading the information about donations and all this stuff just to support them."
With two months remaining in the spring semester, Yurkuts is hopeful that his eventual return to Ukraine will be similar to how he left his home country—a free and independent nation, and not a war-torn Russian-claimed territory.
"Civil people are dying. Russian soldiers are bombing our hospitals, kindergartens and civil houses," Yurkuts said. "I just hope that everything will end. I have to go back home in May. I think that I will come back to a sovereign and independent country, not to Russia. I hope this will stop as soon as possible."
In response to the Russian invasion of Ukraine, Utica University's DEI Collaborative, with support from the Office of International Education and Utica University faculty members, held a PioTalk discussion on March 4 in the Francis A. Wilcox Intercultural and Student Organization Center. 
During this discussion, members of the community were able to learn about the conflict and origins of the invasion of Ukraine, while also being given an open space for people to ask questions and seek a fuller and deeper understanding of the events. This discussion was led by Yurkuts and Associate Professor of History Dr. Clemmie Harris.
The following day, on March 5, Utica University hosted the UCHC men's ice hockey championship game between Utica University and Wilkes University in the Adirondack Bank Center at the Utica Memorial Auditorium. Before the game, a moment of silence was held for Ukraine in honor of those who have suffered and lost their lives over the past couple weeks.
After the moment of silence, Yurkuts was announced as an honorary guest for the game. As he walked onto the ice for the ceremonial puck drop, a thunderous applause, followed by cheers, came from the crowd of over 3,000 people in attendance.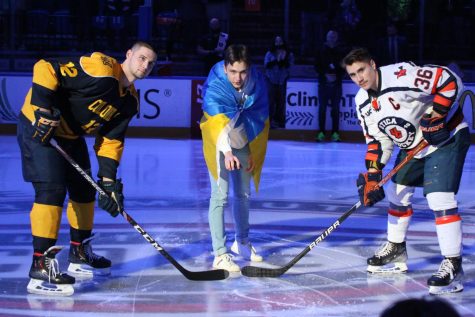 Maxim Gorbachevsky, professor of practice – cybersecurity at Utica University, was one of the many spectators attending the game. Gorbachevsky was born in Ukraine and, like Yurkuts, was also an international Ukrainian student who came to study at Utica University. Gorbachevsky's parents, who were also in attendance, were able to escape Ukraine and are currently staying with him as the crisis in Ukraine continues. 
"When my parents saw all the support in the auditorium, my mom just cried out from the realization of all the support and appreciation of it," Gorbachevsky said.
The current ongoing crisis in Ukraine is severe and it not only affects the citizens who are in Ukraine, but it affects everyone across the planet, according to Gorbachevsky.
"The threats that Ukraine is facing are actually threats to the entire world," Gorbachevsky said. "It's up to all of us to stop this evil."
Utica University President Laura Casamento addressed the campus community last week in a letter about the ongoing situation in Ukraine. In her letter, Casamento explained that Utica University stands with those who are being affected and will offer assistance to those in need.
"As a university that values justice and equity, we share the almost universal outrage and deep concern with what is going on," Casamento said. "We have many students, faculty, and staff of Slavic heritage, many of whom have friends and family still living in the region and are going through deeply emotional and fearful times as the situation continues to evolve. We also recognize our role in the greater Utica community, which has a large population of those of Slavic heritage and is a hub for refugee resettlement."
Casamento also added that it is important to learn from history in order to have a better understanding about how things work today.
"As we live history, let us not forget the importance of learning it and learning from it," Casamento said. "It is only through educating ourselves and finding understanding and empathy among our fellow humans, that we have the chance to make tomorrow brighter."
If you, or someone you know, is struggling with their emotional or mental health during this time, Utica University encourages you to utilize the network of support and various resources available to students, faculty and staff through the Counseling Center, the Office of International Education and the Employee Assistance Program in the Office of Human Resources.