Utica basketball's newest 1,000 point club members
The men's and women's basketball teams for Utica University have each put up record breaking years this season. Although much can be said about both rosters top to bottom assisting in such winning seasons, three standouts have made the biggest impact and with that, have placed themselves in the Utica University record books. 
As of Feb. 28, seniors Darius Hopkins, Kobe Lufkin and Sydney Przygoda finished their seasons leading their teams in scoring with 357, 315, and 307 points on the season respectively. All of them have also become 1,000 point club members within the past month. 
Sydney Przygoda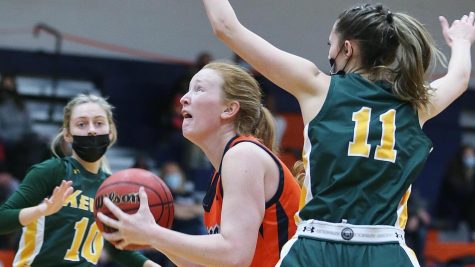 Przygoda reached the mark first on Jan. 7, with a lopsided 81-50 win over Elmira College. With two minutes left in the 3rd quarter, a short range jumper put Przygoda over the top, becoming just the 14th player in program history to become a part of the club. 
"It has been something I have been working toward since my freshman year. During the game, I could hear the bench counting down how many points I needed and it was really motivating," Przygoda said. "When I hit 1,000, my team rushed onto the court and I was overwhelmed with all of the support they were giving me. I definitely could not have done this without my teammates."
In high school, Przygoda did not achieve a 1,000 point career, and coming into college, she admits that such a feat wasn't even on her radar. 
"I remember walking into Coach Davis' office one of my first days here and asking who all the people in the pictures on her wall were, turns out, they were the players who had reached 1,000 points," Przygoda said. "I remember thinking it would be cool to have my picture up there too, but at that time, I definitely did not expect it to happen." 
It is worth noting that even with a COVID-19 related cancellation to her junior season, Przygoda was still able to score her 1,000th point halfway through her third collegiate season. Przygoda was also named First Team All-Conference for the Empire 8 this season.
Kobe Lufkin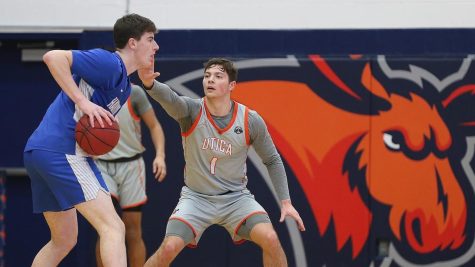 Just three weeks later, Lufkin netted his 1,000th career point in the teams Coaches vs. Cancer game against Sage College on Jan. 29. 
Heading into the game, Lufkin needed a mere two points to reach the milestone. That opportunity came eight minutes into the first, with an attested drive to the basket. 
"This is certainly a nice individual accomplishment and something that I can look back on as a testament to the hours I have put into this sport," Lufkin said. "In the heat of the moment, it felt a little less celebratory as we are still competing as a team to win an important conference game. After the game when we had won was when I felt the most accomplished." 
Lufkin was a part of head coach Sean Coffey's first full recruiting class, and Coffey admits that it didn't take long to recognize what kind of player Lufkin could be. 
"We knew his future was bright, but he needed to learn to defend at our level, handle the ball, work on his body and be a more dynamic player than just a catch and shoot player," Coffey said. "He added all that and more."
Coming out of high school five years ago, Lufkin was a big name player, scoring over 2,000 points in his career at his small town high school in Argyle, NY. Entering college, he was already the all-time leading scorer in New York State Section II from an impressive high school career. Even yet, he knew the work wasn't done to compete at the next level. 
"I understood the level of Division III basketball and knew the time and effort this would require," Lufkin said, referencing surpassing another 1,000 points. "I felt as if it was a possibility, but I would have to continue to improve certain aspects of my play style."
Coffey knew he had it in him as well. 
"For him to accomplish this feat, he needed to push through some difficult times that all young players face," Coffey said. "He continued to work, dedicated himself to the weight room, added new dimensions to his game and became one of the most beloved and respected players by his teammates that I've ever coached."
Darius Hopkins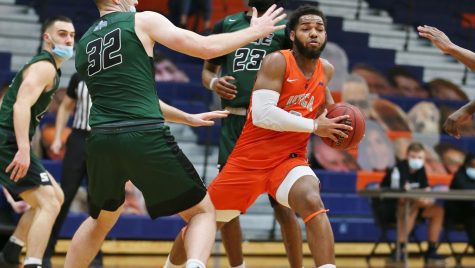 Then came the most recent member of the 1,000 point club- Darius Hopkins, joining the other two on Feb. 11, with the team's most impressive win of the season.
Hopkins became the 16th player in program history to reach this prestigious mark in the second half of their win against nationally ranked (#23) Nazareth College, in which he had a 24-point outing, shooting 5-for-6 from three, which was a season high at the time.  
"Reaching this accomplishment has been an amazing feeling for me," Hopkins said. "The moment it got announced, I couldn't stop smiling because it felt like years of work and preparation finally paid off."
Hopkins admits that an official 1,000 point career has been a long time coming for him as a school transfer back in high school that neglected to transfer his stats made the mark unattainable. 
As a college freshman, he admitted that a personal goal of his was to finally reach that 1,000 point benchmark. So, he centered his lifestyle around making that a reality by sticking to his roots and always maintaining the right mindset. 
"My entire day revolves around being in the gym, whether it's the weight room or on a basketball court," Hopkins said. "My pregame warmup includes a deep stretch and meditation to clear my mind. I also use the same warmup that my father taught me when I was younger, which has a heavy emphasis on form shooting early on."
When Coffey first saw Hopkins back in high school, he knew he was talented, but didn't realize just how much of an asset he'd be until he first stepped foot on the Utica campus. 
"Darius took a chance to come to Utica from Florida to chase a dream of playing basketball. It has worked out well," Coffey said. "He has worked, learned and grown tremendously into one of the best players in the region. Terrific scorer and shot creator. He changed his body and added new elements to his game every off-season." 
Playoff Results
After a historic season, the Utica women's basketball team clinched the No. 4 seed in the Empire 8 Tournament. Unfortunately, they were upset by Russell Sage College and their historic season has come to an end. The team finished 19-7 on the season.
For the men, the team clinched their first ever outright Empire 8 regular season conference title. The team finished with an overall record of 23-4, which was one of the best in program history. Unfortunately for Utica, their season is likely over after a 54-53 heartbreaking loss to Nazareth in the Empire 8 Tournament Championship game.
"It has been a blast playing at Utica these past four years," Przygoda said. "This season specifically has been one of my favorites of my career. The team is really supportive of each other and that is showing in our record. I am glad that my final season is with this group of girls." 
Lufkin, Hopkins and the rest of the men's team were 2021 Empire 8 champions, following a heartfelt victory to end the 2020-2021 season dedicated to late teammate, #5 Christopher Bamba. 
"We had dedicated nearly everything to him that season and it was the best ending to a season we could have asked for," Lufkin recalled. "Other than a sense of joy after winning, the tears had begun flowing from many of us after accomplishing the things we had talked about for many years now."
Hopkins also added that one of the best things about this team is how they treat each other like they're family.
"My teammates are family to me, and we are all committed to one goal which is to win," Hopkins said. "The coaching staff cares, and they put us in the best spots to succeed on the court."