Utica Dance Team reflects on season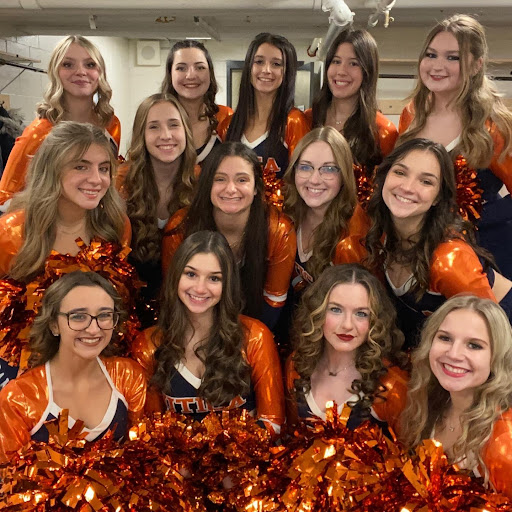 The Utica Dance Team was established in 2018 and focuses on two aspects, including performing for sporting events and competing at collegiate dance competitions. They currently perform at basketball and hockey games, with hopes of adding football and lacrosse into the upcoming seasons.
The former Utica College Dance Company now goes by Utica Dance Team after Utica earned university status last week. 
The dance team's co-captain, Hailey Bassett, said the basketball season provided a large turnout for them. The team had the opportunity to perform at five games, including two women's and three men's games, where they got to showcase two different choreographed dances. 
"I definitely enjoyed dancing for the men's ice hockey team," Bassett said. "This was
something I had never done before. It was different and exciting at the same time."
With the ongoing COVID-19 pandemic, there have been challenges that arose, but the team continued to push through, captain Michaela Mellor said.
"While COVID restrictions did limit our team at times, we never felt discouraged," Mellor said. "We kept pushing to be as active as possible." 
Some restrictions have been lifted this semester, which gave more opportunities for the team to dance at home games and become involved with other campus events.
Tryouts are open to anyone who has a passion for dance and competition. Dance experience is not required to try out for the team, but is recommended. The team holds separate auditions for the dance team and the competition team. Although, in order to be on the competition team, you need to first be on the dance team. The tryouts for the dance team are held in the beginning of each fall semester. The team puts in an effort to hold them around the first day of classes to ensure they have time to prepare and get ready for the upcoming season. 
Head choreographer Sophia Hartnett said that the dance team's most important goal is to be recognized as a sport in the current and upcoming seasons.
"This will definitely not happen overnight, but this is something I will continue to work on," Hartnett said. "Other goals I have for the team are attending competitions, creating a team with more dancers and incorporating the dance team with more on campus events."
Hartnett takes on many roles as the head choreographer. Her job includes conducting practices, choreographing the competition dances/events, overseeing the sports dances and organizing music and costumes. When it is time for tryouts, she and Mellor work together to build the team.
The biggest thing dance provides Mellor is the support and bond everyone has with each other.
"My favorite thing about the dance team is being able to continue a long growing passion of mine, but specifically alongside a group of girls who share the same passion," Mellor said. "It is definitely a family of its own and we all support each other inside and outside of dance."
For Bassett, dance provides a learning experience.  
"All of us come from different dance backgrounds, which allows us to learn from each other and grow," Bassett said.
Anyone interested in the Utica Dance Team should contact an executive board member or reach out through Instagram (@uticadanceteam), Facebook (Utica College Dance Company) and PioHub.