Gold Ribbon Game: How Utica women's ice hockey fights against pediatric cancer
On Feb. 12, Utica women's ice hockey played in their 8th annual Gold Ribbon Game against Wilkes University. The Pioneers had an overpowering 12-2 win to extend their season record to a program best 20-3. 
Even with the smooth win, this game meant far more than any other game for everyone in attendance as it was an entire day dedicated to the awareness of pediatric cancer and supporting those local families whose children are affected day in and day out. 
Utica University's own Sports Information Director Laurel Simer knows this struggle all too well and from this, has become the inspiration behind the annual Gold Ribbon Game. 
At the age of ten, Simer was given less than one year to live following a diagnosis of one of the rarest and most aggressive forms of cancer there is, which is Diffuse Intrinsic Pontine Glioma (DIPG). 
This specific form of cancer causes a direct attack on the lowest part of the brainstem that controls many of the body's most vital functions including breathing, blood pressure and heart rate. A mere 5% of children survive three years post diagnosis and less than 1% survive much longer than that. 
Following a successful clinical trial shortly after diagnosis, Simer surpassed all odds and has thrived well into adulthood and although not yet in remission, has remained stable and healthy since 2001. 
Simer would later find her way from Minnesota to Utica College where she played under the women's ice hockey head coach Dave Clausen for four years, and in that time, would leave an everlasting impact on both the program, and the school. 
"She's an amazing human being and we do the Gold Ribbon Game every year to honor her," Clausen said about his former player.
Not long after graduation from the program, Clausen and Simer came together to host the first Gold Ribbon Game back in 2013.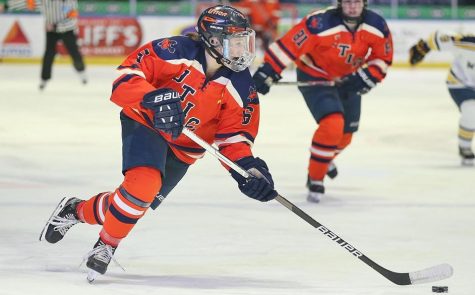 Being a survivor of the experience, Simer is aware of the minimal attention pediatric cancer attains. Although it is far more common than people realize, it remains one of the far less well known forms of cancer, and for this, advances in treatment are slow and limited causing many pediatric cancers like DIPG, to continue to have low survival rates. 
"As I've gotten older, I've tried to be a champion for that cause just to share my story and share what these kids and families are going through… the importance of acknowledging them and raising money is huge because there's not enough money and funding for research," Simer said.
To raise funds, Simer and Clausen designed a specialty jersey together that incorporated the gold pediatric cancer ribbon as well as Utica's unique logos and designs. Bidding fans win the jerseys both before and during the game and the proceeds go right back into the Utica community. According to Clausen, this year's Gold Ribbon Game earned north of $3,000.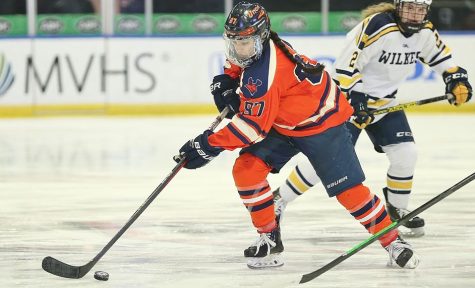 Simer and Clausen scout out a local family or organization to donate the proceeds to, putting substantial emphasis in finding a group that holds close ties to the Utica community and to those who will give back 100% of the proceeds. 
"Coach [Clausen] was always big on community service and giving back and taking pride in being in Utica and playing for Utica," Simer said. "So it's important to us to help people here in the Mohawk Valley, in Utica." 
This year's foundation, Hope in Action, was a perfect fit. 
As most pediatric cancer organizations are, Hope in Action is led by families of those who have lived through a cancer diagnosis of their own children. 
Through their experience, Hope in Action knows that they are able to intimately understand the unique needs of such a diagnosis and can thus support and empower local families. 
Founding board member of Hope in Action, Katie Green, shares all that the foundation does for Utica. 
In their first year, they partnered with several other nonprofits to provide families both in and out of treatment with comfort baskets including a Mother's Day one filled with self care items, a Christmas basket containing "winter fun" items to promote quality family time, and goodie baskets of treats and trinkets that are given to the children at their appointments at Upstate Medical. 
Aside from that, Hope in Action donates goods to the Syracuse Ronald McDonald House, as well as to the Cancer unit at Upstate Golisano Children's Hospital and the Waters Center for Children's Cancer and Blood Disorders, also at the Upstate Hospital campus.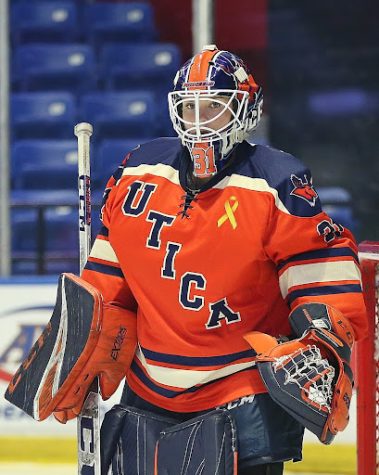 As the pandemic evolves, the proceeds from this year's Gold Ribbon Game will hopefully assist in expanding the opportunity for in-person events.
Green looks forward to creating "A day of respite and to connect with other families on similar journeys whether at the zoo or a park having a picnic allows families to find friendships and support that are so needed."
Simer admits that she had no idea when arranging the first Gold Ribbon Game that it would last any more than that single game, but it has become an important tradition of women's hockey. 
"I love that we give back to the community in such a big way. It is a lot of fun and knowing we make an impact in some people's lives is heartwarming," Clausen said. "For our players, learning about giving back and supporting your community is a great lesson which can't be learned on the ice."
Utica sports teams participate in all forms of awareness games, and many have begun incorporating pediatric cancer awareness games into their regular season schedules, which Simer admits is special to see.
"This cancer is not talked about enough," Simer said. "It's tough to talk about, it's tough to see sick kids and to see them going through treatments. But to see the ribbon is acknowledging that they are with each family and with me in this fight." 
Unfortunately, the women's ice hockey team struggles with attendance as compared to their male counterparts. Although the Gold Ribbon Game tends to bring in more fans, it's still a struggle that Simer longs to see a change in in the near future.
"While we were not able to have many families there, we know that the knowledge of the Utica women's ice hockey team having a Gold Ribbon Game meant the world to our families and to us," Green said. "Just knowing the team sees these families and the importance of supporting them provides hope to our community. We are forever thankful for that."