Paul J. MacArthur: The Olympic research King of Utica University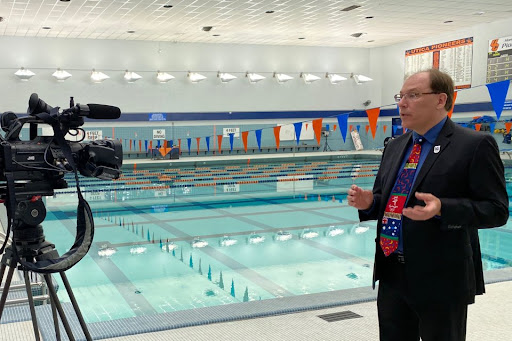 The Olympic Games run for 17 days every other year and garner billions of views across the globe. Paul J. MacArthur, Utica University Professor of Public Relations and Journalism, studies media coverage for each of these Olympic Games to analyze different trends. 
MacArthur became interested in Olympics research in the spring of 2008 while attending a conference featuring speaker Andrew C. Billings, the Ronald Reagan Chair of Broadcasting and Executive Director of the Alabama Program in Sports Communication in the Department of Journalism and Creative Media at the University of Alabama, who was presenting findings from the 2006 Winter Olympics. 
"I had some thoughts about the presentation because I thought they had ignored snowboarding coverage," MacArthur said. "I knew I would be teaching the course in Fall 2008. I had always liked the Olympics and writing about sports."
After speaking with Billings at the conference, MacArthur was invited to participate in research taking place about the USA vs. China basketball game in the summer of the 2008 Olympics, where they compared various media coverage of the game to discover any trends and biases.
MacArthur was then asked to help with research Billings was doing for the 2010 Vancouver Olympics and the team has been working together and studying game coverage ever since. 
The overall goal of the Olympics research is to study different patterns in coverage throughout all of the games and events as a whole. The platform they examine for media coverage is NBC's primetime broadcast. 
According to MacArthur, in an Olympic broadcast, there are roughly 65-72 hours of content that need to be combed through by everyone on the research team. After the data is collected, it needs to be organized and defined, then sorted to find out how often a name was mentioned and organized again by race, gender and nationality. There are thousands upon thousands of descriptors that have to be looked for differences and it needs to be determined if they are significant. 
The research team focused on three main areas of coverage: air time based on gender, who gets the most coverage out of the top twenty athletes of the year and the overall descriptions of athletes, which includes race, ethnicity, nationality etc. According to MacArthur, the process of gathering data was very labor intensive.
"I've never clocked [my research] and that is probably a good thing," he said. "The research is extensive and detailed, and you are rewinding each broadcast and correcting the coding. It is a long process to go through."
After all the information is sorted, the team looks for any particular trends in the data. They then compare the data longitudinally with information that was gathered in past years to determine any long term trends or drastic changes in coverage.
"I think when we find something unexpected or unusual it becomes really intriguing," MacArthur said. "When women first dominated the coverage, it was an exciting finding. Now that it is consistent, it is great from an equality standpoint and it is cool that we are seeing a trend in that. You don't see that anywhere else."
MacArthur also co-wrote the book, Olympic Television Broadcasting the Biggest Show on Earth, with Billings and James R. Angelini, an Associate Professor in the Department of Communication at the University of Delaware. This book examines how the Olympic Games are broadcasted across the country and MacArthur uses his book to help teach his SCM 433 class at Utica University about the Olympics.
MacArthur was recently featured in a Washington Post article in regards to the NBC coverage of the Olympics and lack of criticism on China's human rights abuses. In the article, MacArthur said that no matter how NBC broadcasts the Olympic Games, the network will face some sort of criticism.
Even after around 15 years of doing Olympic research in some sort of fashion, something new seems to pop up at each Olympic Games, according to MacArthur.
"It is interesting to find new ways to look at and examine the data," MacArthur said. "Our research is going down avenues that have not been gone down before."
More information on MacArthur's Olympic research and book can be found on Fiveringtv.com.