Profile: Utica College Television (UCTV)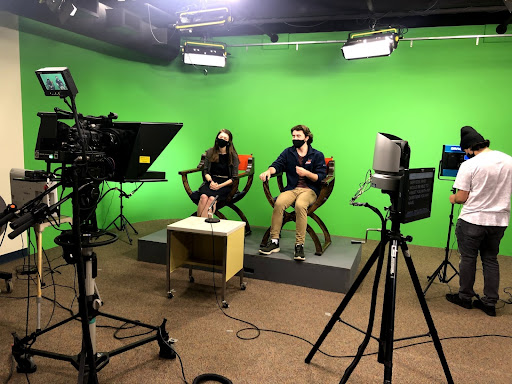 UCTV is the newest media outlet on campus, to create and produce a variety of shows and PSA's meant to promote Utica College's academic departments and student organizations. 
The organization has been on campus for around ten years and their current advisor, Laura Lewin, has been with them for the past five. UCTV started as a practicum for Utica College students, but has evolved into something bigger. 
"When I started, my coined phrase was: we have three cameras and four walls, what do you want to do?" Lewin said.
According to Lewin, show ideas and content all come from students and they are who drive the shows. The station is always looking for new and fresh ideas with content that people would enjoy. 
Currently, the station runs two main weekly shows. The first is Moose Now, which is UCTVs main source of events news for the campus community. The goal of Moose Now is to recap important events that happened throughout the week along with previewing big upcoming events on campus. Moose Now runs Tuesdays around 4 p.m.
The station's other major show is UCTV Overtime, which focuses on sports news and updates about various teams on campus. Similar to Moose Now, the show recaps big events that happened during the week, while also giving updates on events happening in the future. UCTV Overtime is aired on Wednesdays at around 2:30 p.m.
The creation of an episode takes a lot of behind-the-scenes work, according to Promotions Manager Corrine Bush. With around four days of prep, students need to make sure all of the tech is set, create scripts, come up with ideas, create graphics for the show and more. 
Currently, the shows are pre-filmed, edited and released to the audience. In the upcoming weeks, the shows will be available for live streaming through the station's YouTube channel. 
Besides the two main shows, the station also runs a game show. The game show originated as the practicum's final exam at the end of every semester and was styled after ABC's The $100,000 Pyramid.
A goal of UCTV is to make game shows a monthly occurrence. Students can apply in teams of two to compete in the show for a chance to win a prize. The game show is open to all, not just communication and media majors, and any students who want to participate are encouraged by UCTV to apply. 
Some small projects are currently in the works including the possibility of a new talk show, along with more club profiles.
"We are always looking for new people and ideas," said Francis Tavino, the station manager. "We are open to talking to anyone and would love lots of volunteers to even come for a couple of hours and help with a show. If you ever wonder how it is done, come and see it. You don't have to be in communications and we will teach you along the way."
According to club members, the group has a welcoming atmosphere for anyone who may be interested in participating. 
"I really love the family atmosphere," Bush said. "Laura creates this atmosphere that makes us all a tightly bonded group and crew. She always asks how our day is and how we are doing."
For more information about UCTV, how to volunteer, or how to apply to become a game show contestant contact UCTV on their PioHub webpage or website. 
To view UCTV content check them out on Instagram and YouTube.