Georgie Santullo: UC and D3 ice hockey star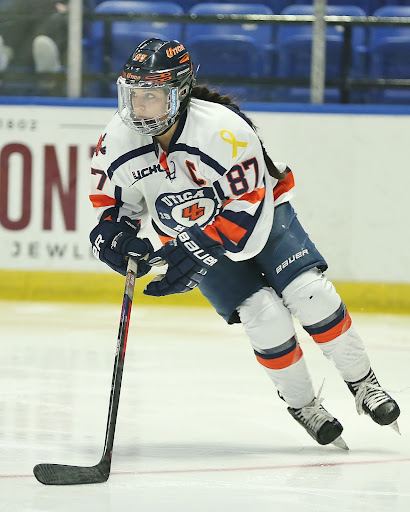 The Utica College women's ice hockey team is having one of the best seasons the program has ever seen. With a current record of 20-3, the team has broken the record for most wins in a season.
Top to bottom, the entire team has had an important role in their success, but few have put up numbers quite like senior captain Georgie Santullo. 
The team's potential was obvious early into the season as most of the players are veterans, especially with Santullo at the forefront on and off the ice. 
"We bought into playing for each other early on in the season and having each other's backs no matter what the circumstances are," Santullo said. "This season has been my favorite one so far due in part to the dedication that this team has to each other. Everyone on this team plays such an important role and we all trust each other which has really shown in some of our tougher games this season."
Following a five-point game against Neumann University Jan. 29, Santullo continues to climb the leaderboards on a national level.
She not only leads her team and her conference in several statistics, including goals (27), points (51) and game winning goals (4), but also leads the nation, second-to-none, in Division III women's ice hockey in goals per game (1.23) and power play goals (8).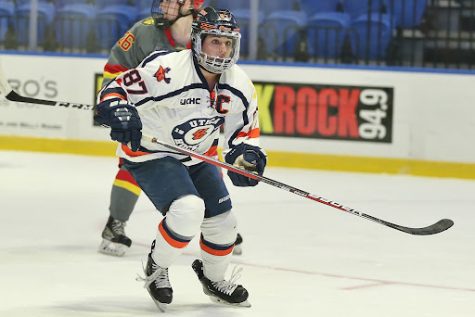 To have such a notable season, Santullo admits that the work begins as soon as last season ends. The offseason is a time to reflect and improve, according to Santullo. 
"I have had a huge support system with the strength and conditioning trainers at SPI and they make me stronger not only physically, but mentally as well," Santullo said. "I have been fortunate enough to be able to work with Nate Fredsell, Nick Mariott and Jared Smaldon, who have all contributed to my success over the last few years at Utica College." 
Some could say it's a natural ability that has made Santullo a top competitor since her freshman year at Utica College, and maybe that's part of it, but those who know her best know that more than anything else it's the heart and drive she has for herself, for her teammates and for the game she loves most. 
Santullo's high school varsity coach Bob MacCurtain knows this best as a first-hand witness to the young player who always wanted just one more shot until the Zamboni itself pushed her off the ice. 
"Georgie was one of the most competitive people I've been around in my 22 years of coaching at Woburn HS… and her competitive spirit, determination and desire to win were contagious," MacCurtain said.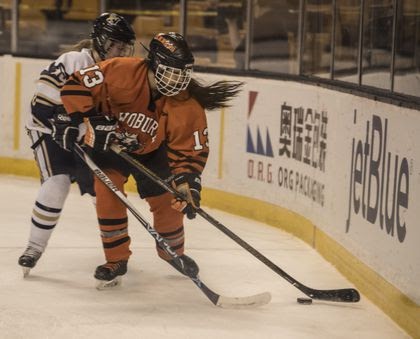 Back in high school, this ambition helped Santullo lead her team to back-to-back division one Massachusetts State Championships. 
Just four years later, as a senior in college, the hustle to be great never ceased and never went unnoticed. 
It didn't take freshman teammate Callie McLaughlin long to witness much of the same as coach MacCurtain. 
"She has such a strong energy and passion for hockey that it is contagious," McLaughlin said. "On the ice she is working hard 100% of the time and always gives it her all. Even if the mood of the team is down, or if we are having a bad practice, she does everything she can to pick up the energy and get the team going." 
In the months and weeks leading up to the start of the season, there is much to be done to acclimate the team both physically and mentally, an intimidating time for many first year players of any sport. 
Freshman teammate Lauryn Brown recalled what this time was like for her with Santullo on the team, claiming her actions spoke volumes about her teammate. 
"During preseason workouts we had to run 300-yard shuttles for our testing and I was late because I had class," Brown said.  "My options were to either run it that day by myself or run it another day, but I wanted to run it that day. So I was going to run it myself, but then Georgie offered to run it again with me after she just ran it with the team."
For this among so much more, Santullo will leave her mark on this school and on her teammates in more ways than being a top athlete. 
With only two games left in the regular season, both of which are at home against nationally ranked Nazareth College, the Pioneers have the chance of taking home the conference championship among so much more. 
"We have a lot of depth, and all of our lines are very strong and carry different skill sets which makes us very hard to play against," Santullo said. "We have all had success in our own ways and are each other's biggest supporters which has been very uplifting." 
Santullo is looking forward to the next few weeks leading up to the playoffs and seeing what her team is capable of.
"While she won numerous individual awards, her drive and ambition to be a champion are what I'll remember and respect the most," MacCurtain said.
Santullo is in her senior season, but due to COVID-related extended eligibility, she will return next fall to pursue a master's degree in social work, giving her the option to lace up the skates one last time. 
"Hockey has been such a big part of my life since I first got on skates when I was 4-years-old, but I do have big plans for when the day comes where I have to hang the skates up," Santullo said. "I am very excited for what the future has to hold, and I am eager to get into my career field."
After her time at Utica College, Santullo aspires to become a certified child life specialist helping children and their families cope with the hospital experience.