UC women's basketball continues historic season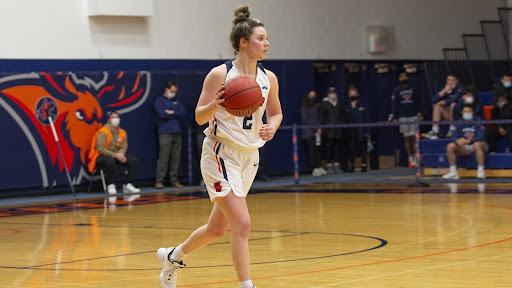 It has been a historical season for the Utica College women's basketball team this year as multiple players have placed themselves in the record books, while the team as a whole found themselves with a school record breaking 12-0 start to the season.  
The team set the tone early, quickly rising above two of the most competitive non-conference opponents on their schedule within the first six games. 
Prior to this season, the Pioneers had not defeated SUNY Poly in five years and SUNY Oneonta even longer than that, but were able to find the high ground in both games. 
Momentum really picked up for the women as they matched up with Wells College on Dec 8. With their seventh consecutive win to start the season, they amassed their largest margin of victory to date with a 91-17 final score. 
To match a program record of an 8-0 start, which dated back to the 1984-85 season, the Pioneers overcame Morrisville State College. This, with much help from graduate student and point guard Brigid Johndrow, who dropped the program's first triple-double in over 10 years. 
"It feels good to still be playing, it wouldn't have felt right to end my basketball career with no real season," Johndrow said after coming back to utilize her COVID-19 season. "I love the team we have this year. We really are a family and I couldn't have asked for a better team for my final year of basketball." 
It wasn't until coming back from the holiday break that the Pioneers could take the record for best start to a season ever with their 56-50 win over Hamilton College. 
In their first conference win over Elmira, the team climbed to 10-0, while senior Sydney Przygoda placed herself amongst the top 14 scorers in program history as she surpassed the 1,000 point mark.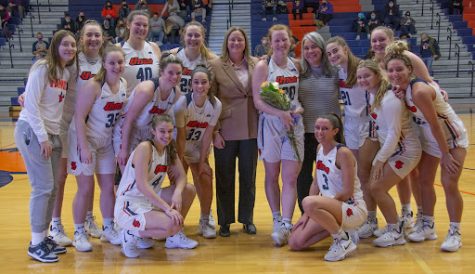 "I am just very grateful for my teammates, coaches and family that have helped me achieve that goal," Przygoda said. 
It is worth noting that Przygoda was able to reach this milestone half way through her senior season, when she never played a single game of her junior season due to a COVID-19 related repeal. 
"I have used the cancellation of last season to motivate me for this current season,"  Przygoda said. "I had a glimpse of what life without basketball is like and it has helped me appreciate my final season even more." 
The win streak would continue to a 12-0 record, until the team fell in back-to-back losses to nationally ranked St. John Fisher and Nazareth. These two losses remain as the Pioneers' only two of the season. 
Prior to their first win of their 12-0 streak back in November, the team hadn't stepped foot on the court together in nearly two years. The last game the Utica College women's basketball team played was in the first round of the E8 tournament back in 2020, pre-pandemic. 
The lack of experience with each other could have, and maybe should have, led to a tough road as they attempted to get back into a groove at the start of their season. However, their time apart showed to only make their game stronger.
Before the season started, Przygoda knew just how special of a team she had alongside her. 
"It has been such an honor to be a part of this season's team," Przygoda said. "I had a feeling this team was going to be successful from the start. During our first few pick-up games in preseason, it was clear that we had great chemistry and that everyone on the team was really invested in doing their part to help the team win." 
The team has a demanding schedule ahead as they head back for their second round of conference play. 
As the longest standing member of the team, Johndrow knows what she has to do to keep an Empire 8 championship in sight. 
"On the court, my role is to be pretty consistent and just do what needs to be done to win," Johndrow said. "I like to be a positive person for the team and keep everyone together if things aren't going our way."
The Pioneers return Saturday, Jan. 29 to play Sage College at Miga Court at 2 p.m.